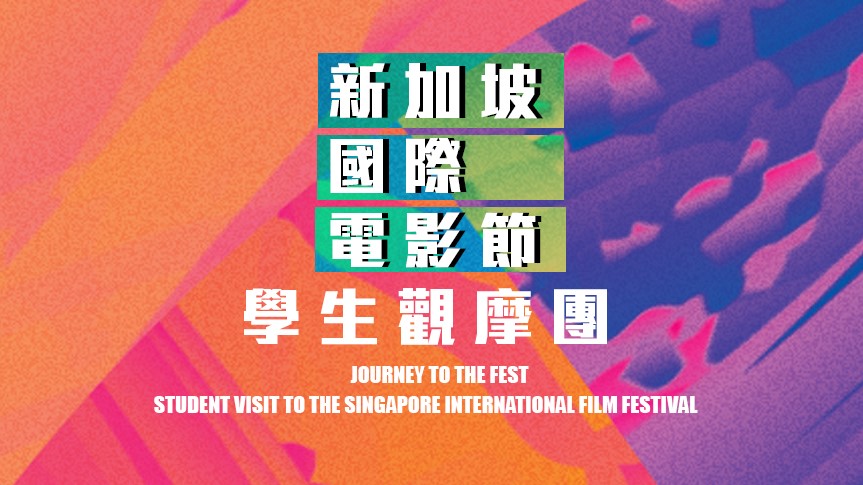 Date: 22 November – 1 December 2019
Location: Singapore
Partners: Singapore International Film Festival
In support of Create Hong Kong (Create HK) and Hong Kong Film Development Fund, the Asian Film Awards Academy (AFA Academy) organized Journey to the Fest – Student Visit to the Singapore International Film Festival (SGIFF), with the vision to enrich the outlook and experience of Hong Kong film and media students through participating in overseas scaled international film festivals as SGIFF. Student participants of the program attended symposiums, networking events and screenings of the festival. During their stay, students visited film-related institutions and organizations to gain deeper understanding and first-hand experience of filmmaking history, procedure and culture in Singapore and Southeast Asia.
Pre-Event Tea Party
Date: 28 October
Venue: AFA Academy Office
Screenings and After-Screening Discussions with Filmmakers
Period: 22 November to 1 December
Every student has watched around 10 films of different genres and from different countries chosen by AFA Academy staff and of their own choice. Some film screenings were either followed by post-screening Q&A or opened with pre-screening stage greeting with filmmakers/actors.
In-Conversation: Stone
Date: 22 November
Venue: The Projector, Redrum
Speaker: Stone (Taiwanese Actor, guitarist of the band Mayday)
Moderator: Ms. Inch Chua
Panel Discussion – Sg Originals: So, What Happens after Your First Film?
Date: 23 November
Venue: Oldham Theatre
Speakers: Mr. K.Rajagopal, Mr. Jacen Tan, Ms. Wong Chen-His (Singaporean directors)
Moderator: Mr. Jeremy Chua
Gala Presentation: Nina Wu – pre-screening Red Carpet
Date: 24 November
Venue: Capitol Theatre
Guests: Nina Wu cast and crew, other festival honorable guests
Gala Presentation: Nina Wu After Party
Date: 24 November
Venue: Loof, Rooftop, Odeon Towers Extension
Guests: Mr. Midi Z (director of Nina Wu), Ms. Wu Ke-Xi (screenwriter & actress of Nina Wu), Ms. Hsia Yu-Chiao (actress of Nina Wu), other filmmakers and guests of SGIFF
Visit to Ngee Ann Polytechnic School of Film and Media Studies
Date: 27 November
Venue: School of Film and Media Studies, Ngee Ann Polytechnic
Speaker/guests: Mr. Adrian Lim (Film Lecturer) and students
Visit to The Objectifs – Centre of Photography and Film
Date: 29 November
Venue: The Objectifs
Speaker: Mr. Ryan Chua (Assistant Manager, The Objectifs)
Sharing session by Asian Film Archive
Date: 29 November
Venue: Oldham Theatre
Speaker: Mr. Thong Kay Wee (Outreach Executive, Asian Film Archive)
Sharing session by Singapore Film Society
Date: 30 November
Venue: café in Singapore Management University
Speakers: Mr. David Lee (Vice Chairman, Singapore Film Society, film programmer, reviewer and publicist), Mr. Shermen Ho (Project Development & Partnerships Director, Singapore Film Society)
Silver Screen Awards presentation ceremony
Date: 30 November
Venue: National Museum of Singapore Salon
Guests: (including) Mr. Boo Jun-feng (film director, Vice-Chairman, SGIFF), Ms. Yuni Hadi (Executive Director, SGIFF), Ms. Yao Chen (actress, Cinema Icon Award Recipient), Mr. Takashi Miike (director, Honorary Award Recipient), Mr. Anurag Kashyap (competition jury head), Mr. Pang Ho-cheung (competition jury member), Ms. Nia Dinata (competition jury member), Mr. Amir Muhammad (competition jury member), nominees and other filmmakers
Takashi Miike Masterclass
Date: 1 December
Venue: National Museum of Singapore Salon
Speaker: Mr. Takashi Miike (Director)
Moderator: Ms. Kirsten Tan
Meeting with participants of SGIFF Youth Jury & Critics Programme and mentor Mr. Kong Rithdee
Date: 24 November
Venue: *SCAPE
Speakers: Mr. Kong Rithdee (film critic, mentor of SGIFF Youth Jury & Critics Programme) & participants of SGIFF Youth Jury & Critics Programme
Meet the Talents – Director Midi Z and Miss Wu Ke-xi
Date & Time: 25 November
Venue: Festival Lounge (The Objectifs)
Speakers: Mr. Midi Z (Myanmar-born Taiwan director), Ms. Wu Ke-Xi (Taiwan screenwriter & actress)
Moderator: Ms. Kuo Ming-jung (programme director, SGIFF)
SGIFF Connects X Lasalle College of the Arts – Meet the Programmers
Date: 28 November
Venue: Student Lounge, Lasalle College of the Art
Speakers: Mr. Anderson Le (Hawaii International Film Festival), Ms. Sabrina Baracetti (Udine Far East Film Festival), Ms. Pimpaka Towira (Bangkok Asian Film Festival) and Ms. Kuo Ming-Jung (Singapore International Film Festival)
Moderator: Mr. Jeremy Chua
Meet the Talents – Director Anthony Chen & Ms Yeo Yann Yann
Date: 29 November
Venue: Festival Lounge (The Objectifs)
Speaker: Mr. Anthony Chen (Singaporean director & screenwriter) & Ms. Yeo Yann Yann (Malaysian actress)
Moderator: Ms. Kuo Ming-jung (programme director, SGIFF)