チン・シウトン
香港のアクション映画の舞台裏の伝説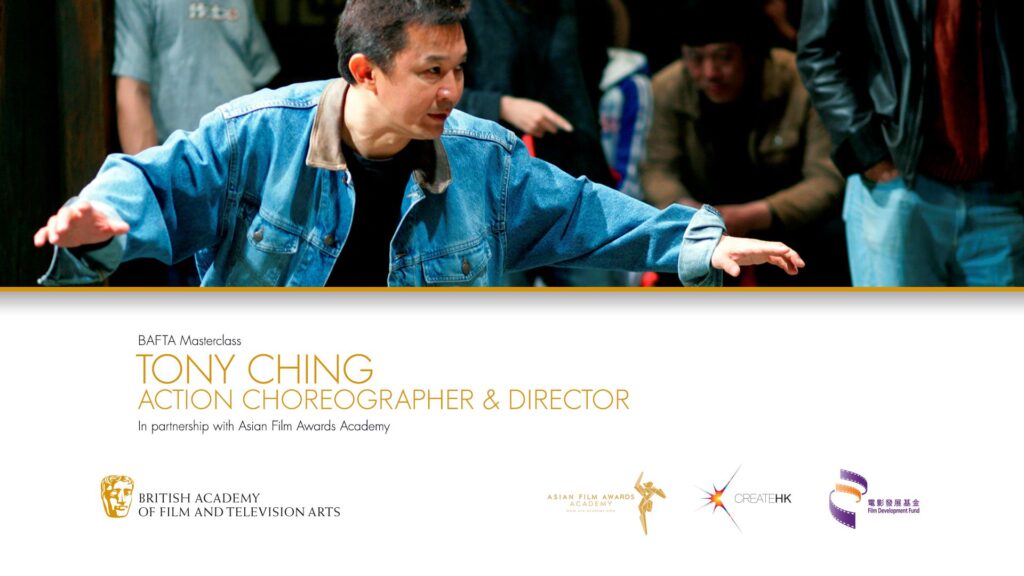 Date: 19 September 2018
Location: London (Princess Theatre, British Academy of Film and Television Arts)
Guest: Tony Ching Siu Tong
Moderator: Andrew Heskins
Partners: British Academy of Film and Television Arts
Asian Film Awards Academy and The British Academy of Film and Television Arts (BAFTA) had host a masterclass with acclaimed Chinese action choreographer and director Tony Ching (aka Ching Siu Tung) on Tuesday 18 September at its headquarters, 195 Piccadilly in London. The event is financially supported by Create Hong Kong and Hong Kong Film Development Fund.

The masterclass had examine Ching's pioneering style of cinematic martial arts for films such as Hero (2002), the BAFTA-nominated House of Flying Daggers (2004), and The Sorcerer and the White Snake (2011). The event also highlight his career as a director, during which he has aided the development of the action-fantasy genre of Chinese filmmaking with A Chinese Ghost Story (1987). Ching was also the chief action choreographer for the Opening Ceremony of the 2008 Beijing Olympic Games.

Marc Samuelson, Chair of the BAFTA Film Committee said: "We are delighted that Tony Ching in the UK to share his insights with the British film industry, students and film enthusiasts. His unique take on action choreography and stunt co-ordination has influenced filmmakers all over the world."

Josie Lin, Executive Director of Asian Film Awards Academy, said: "It is our pleasure to present the home-grown Hong Kong action director Tony Ching, whom we had the honor to appoint as the Jury President in the latest edition of the annual Asian Film Awards earlier this year, to the UK audience in our second collaboration with BAFTA. The AFA Academy is always devoted to presenting the best of Asian cinema to global audiences and working with BAFTA is certainly one of the best ways we could opt for."

Since 2013, BAFTA has worked with partners in mainland China and Hong Kong to deliver masterclasses and international scholarships, engaging world-renowned, award-winning filmmakers, actors and craftspeople to take part, including Johnnie To (co-hosted in the UK with Asian Film Awards Academy), Zhang Yimou, Duncan Kenworthy, Eddie Redmayne, Lois Burwell, Lindy Hemming and Hugh Bonneville. Through such events and initiatives, BAFTA promotes a spirit of open, creative collaboration between the UK and China and encourages cross-cultural exchange.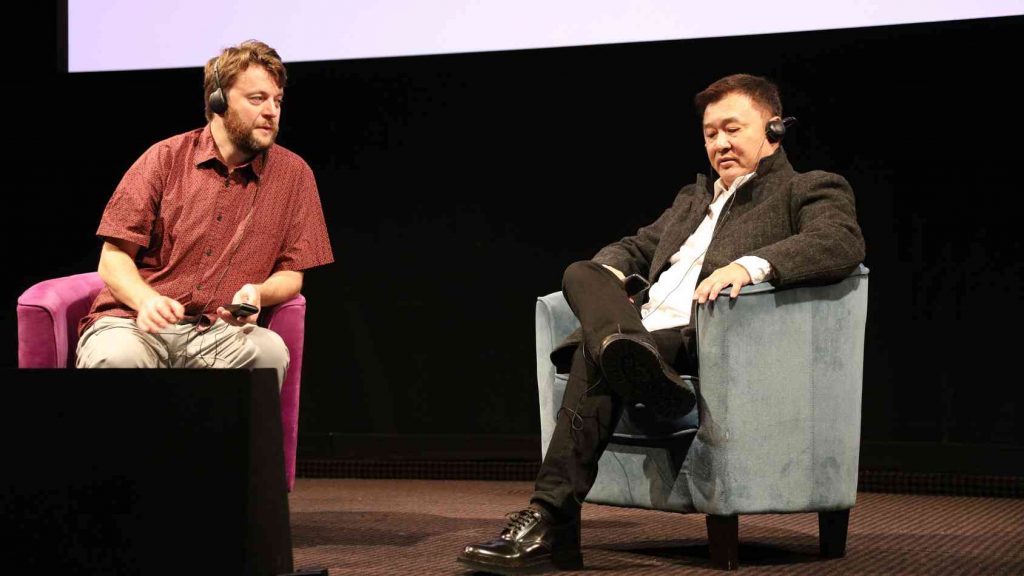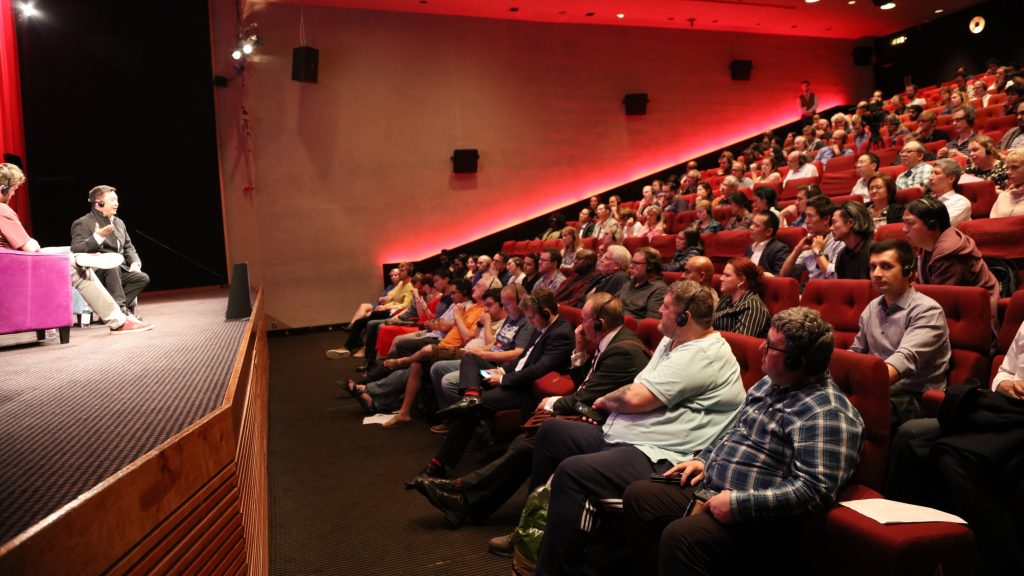 In speaking in the masterclass, Tony spoke about how he had spent time as a child on the Shaw Brothers set – his father Ching Gong was a Shaw Brothers studio director:

"I actually grew up on the film studio and that's why I got very interested in action movies. I spent a lot of time with famous directors whilst they were shooting the films, for example King Hu [Hu Jinquan – Come Drink with Me]."

The masterclass gave fans of films such as "Duel to the Death", "A Chinese Ghost Story", The Swordsman trilogy and Yimou Zhang's wuxia epics "Hero" and "House of Flying Daggers", an insight into the man and creative pioneer behind many of the captivating, epic Hong Kong movies we still cherish today.

Through his interpreter, Tony spoke of his upbringing, studying performance and martial arts at the famous Peking Opera school then going on to work as a stunt technician for Hong Kong television studios, after his graduation. The hours were long, and the pay minimal but for the young aspiring Tony, provided the solid training ground needed for his future work. He reminisced about those days fondly: "Since there were not many stuntmen in the industry at that time we worked many shifts. Days were so long we would sometimes sleep in a nearby cafe. I saw this as fun at the time, not hard necessarily but I was young then."

It was fascinating to hear this great director (who gave up acting to work behind the camera, the man behind iconic moments like the "Echo Game" scene from "House of Flying Daggers") talk about learning his trade largely through trial and error. From a fan's point of view it was exciting to imagine that Tony honed his talent into a truly innovative and inspiring skill from a humbling, chaotic on-the-job education.

If audiences wanted to know just how a master director and choreographer thinks and works they certainly learned that night from one of the best. Tony explained how he prides himself on making sure that he and his team come up with unique creative sequences packed with that all important wow factor. He detailed the meetings between his team and production staff, originating ideas, and location visits. In making sure he could deliver the best, Tony emphasised the importance of listening to the director and guiding them as to how their sequences can be achieved. He also stressed the importance of ensuring that all the actors whether they are experienced martial artists or beginners, are properly trained and made aware of any dangers. When directing actors, Tony stressed that safety was paramount but so was making sure they didn't lose face: "I make sure they look really really good, give them the basic training and gradually give them lots of encouragement. It is important to make sure they don't lose face, it's all about encouragement. It's important that as well as director and action choreographer that you're responsible for their well-being to make sure they feel safe. Actors can't always see the danger, so I must make sure there is backup. These actors are putting their lives in my hands, so I make sure they listen, are safe and no harm comes to them."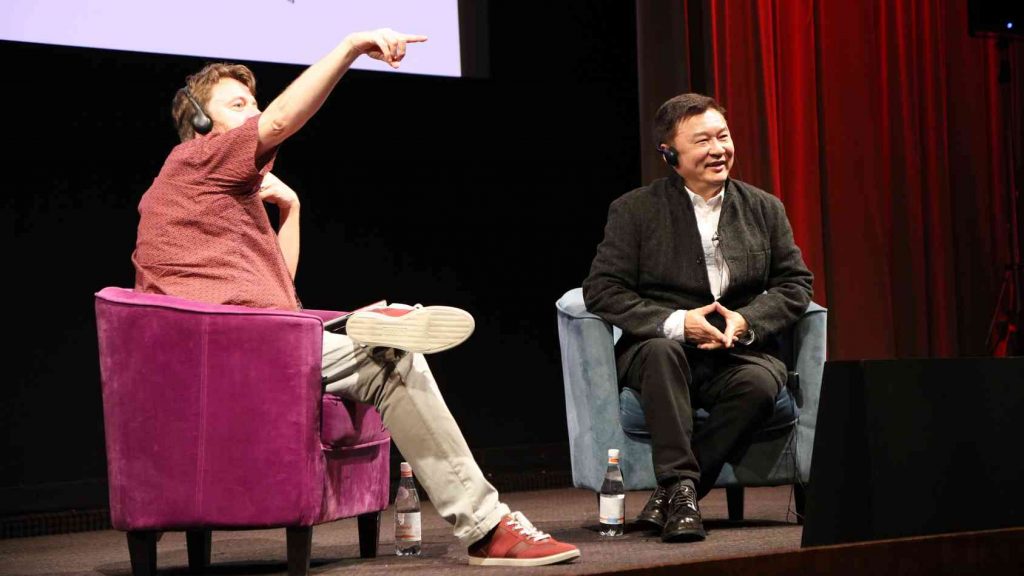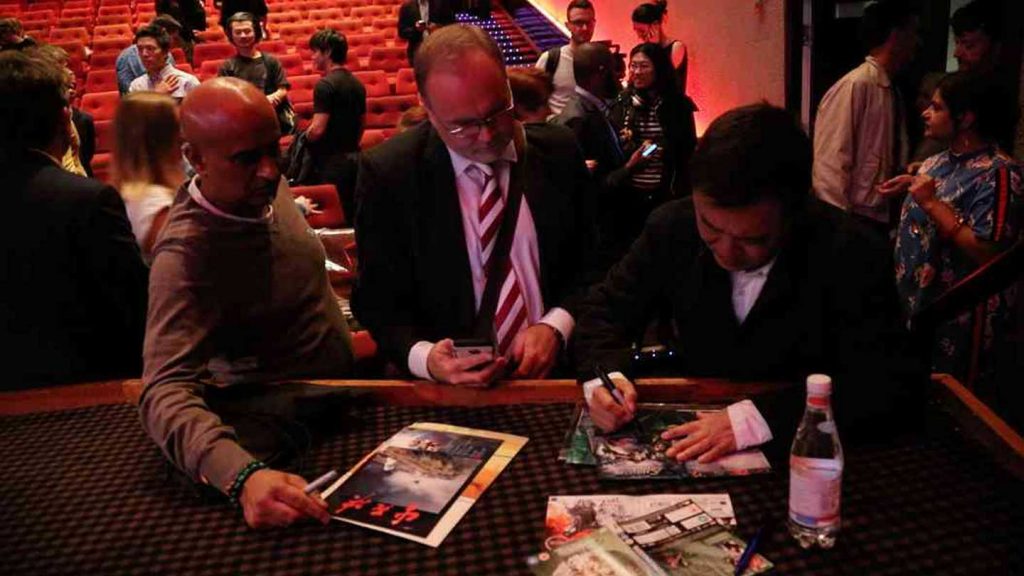 Tony spoke extensively about his life and work in the film industry, working with the biggest names that was a who's who of action talent, including Andy Lau, Zhang Ziyi, Jet Li, Donnie Yen, Tsui Hark and Michelle Yeoh. He also had some interesting insights to share on the future of action films, of both Hollywood and Chinese cinema.

"Obviously everything's a challenge and we can't say that because you have a particular storyline we're not going to shoot it. So every time we work on a film, we have to think about something unique."

In the masterclass Tony spoke at length about the importance as an action choreographer and co-ordinator to listen to the director and follow their instructions. He explained how in Hong Kong, action directors are more hands-on although don't fully understand the machinations of stunt work and so Tony, with his team, help them put it together:

"We need to know what the director wants and that we can deliver. Not many can do this. Apart from action you need story."

In discussing the future of filmmaking not just in China but in Hollywood as well, Tony observed a return to more traditional action sequences with maybe a little CGI to enhance rather than dominate the action. To the masterclass audience Tony held up Tom Cruise in "Mission; Impossible: Fallout" as a solid example of this resurgence of old-school action and coming full circle, back to basics.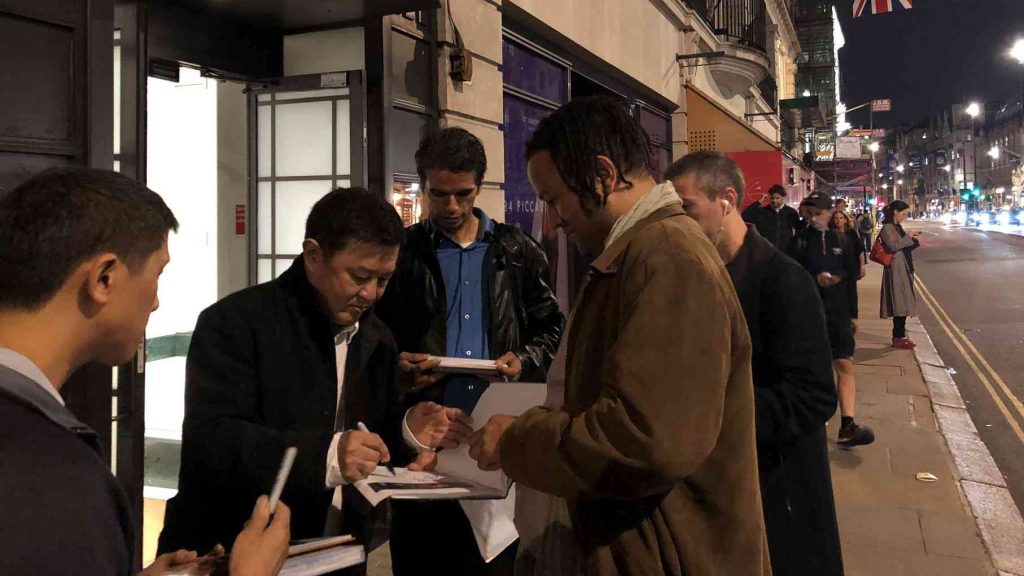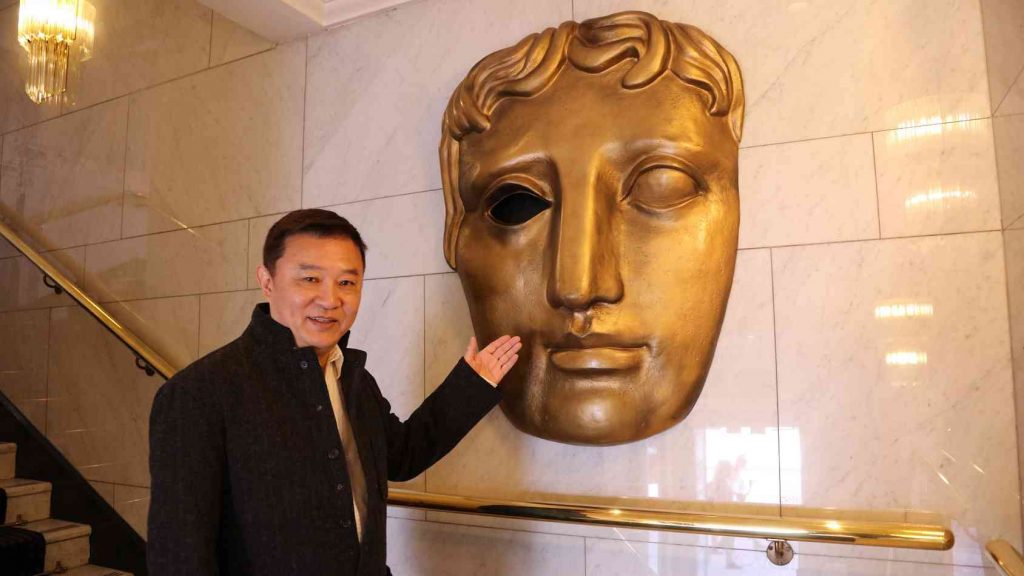 Tony Ching biography:

Born in Hong Kong in 1952 to famed director Cheng Kang, Tony Ching (aka Ching Siu-Tung) began training in Peking opera and northern style martial arts at a young age. He began his career in the film industry as a martial arts stuntman and action coordinator, then as an action director in the 70s, before making his directorial debut with Duel to the Death (1982), in which he was also the action choreographer. In 1987 his directorial career hit a new high with A Chinese Ghost Story, the hit fantasy that combined an ethereal love story with thrilling action. His directorial output also includes A Chinese Ghost Story ll (1990), Dr Wai in The Scripture with No Words (1994) and The Sorcerer and the White Snake (2011), which was screened at the 68th Venice Film Festival. He served as action choreographer and stunt coordinator on blockbusters such as The Heroic Trio (1993), the BAFTA-nominated House of Flying Daggers (2004), The Warlords (2007), and two installments of hit Bollywood franchise Krrish.

Pioneering a new style of cinematic martial arts that is fast-paced yet graceful, Ching has been hailed for his talent for turning bodies in motion into visual art. He has been nominated for Best Action Choreography 18 times at the Hong Kong Film Awards and won three times – for Witch from Nepal (1986), Swordsman (1990) and Hero (2002). He is also a two-time winner of Best Action Choreography at the Golden Horse Awards – for Dragon Inn (1992) and My School Mate, The Barbarian (2001). Ching was also the chief action choreographer at the opening ceremony of the Beijing Olympics in 2008. He was the Jury President for 12th Asian Film Awards in 2018.

About the Moderator:

Andrew Heskins launched easternKicks.com in 2002 to spread his passion for Asian film, which had been ignited by Hong Kong and Fifth Generation Chinese films from the 80s and 90s. This quickly grew into a broader appreciation of films from Japan and the Korean Wave, and continues to evolve and expand. The site has gained a reputation as one of the best sources of information on Asian film, now supported by a global network of nearly 40 contributors. Recognised as a specialist and interviewed by the press, easternKicks.com also create exclusive video content for home media releases. When not found in darkened cinemas and screening rooms, Andrew also runs a successful graphic design company.