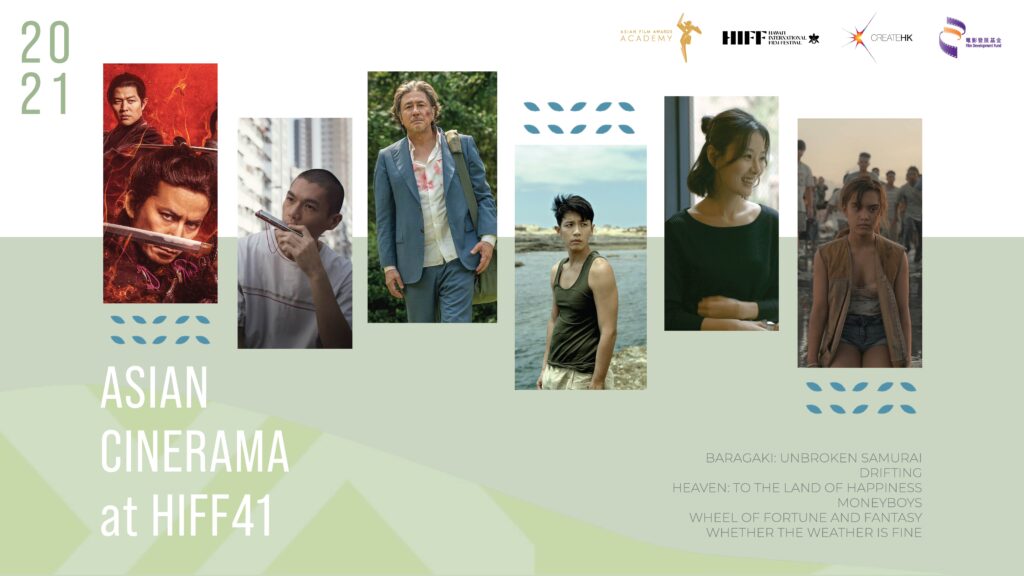 Date: 4 – 28 November 2021
Location: Hawaii (Consolidated Theatres Kahala & Online platform)
Guest: Jun Li, Carlo Francisco Manatad
Screening: Baragaki: Unbroken Samurai, Drifting, Heaven: To the Load of Happiness, Moneyboys, Wheel of Fortune and Fantasy, Whether the Weather is Fine
Partners: Hawaii International Film Festival
With the shared objective of promoting and recognizing outstanding Asian cinematic works, the Asian Film Awards Academy (AFAA) collaborates with the Hawaii International Film Festival (HIFF) again in presenting AFAA's flagship film roadshow – Asian Cinerama (the programme). Financially supported by Create Hong Kong and the Film Development Fund of the Hong Kong SAR Government, Asian Cinerama had take place at Consolidated Theatres Kahala and screen online.
The programme included Baragaki: Unbroken Samurai, veteran director Masato Harada is back with his most action-packed samurai epic to-date. The master of historical drama, Harada turns his impeccable attention to detail on the life of Toshizo Hijikata, vice-commander of the shinsengumi and staunch opposer of the Meiji Restoration.
Hong Kong director Jun LI's Drifting, his second feature after having made a significant impact with his directorial debut Tracey in 2018. It has garnered multiple nominations for the Asian Film Awards and the Golden Horse Awards. Drifting takes a close look at the homeless, as it features an outstanding ensemble of actors and shows a sensitive approach to an important social issue.
Director Im Sang-soo returns with his most endearing and heartfelt film to date. Busan IFF 2021 Opening Night Film, Heaven: To the Load of Happiness is a fresh take on the fugitive buddy road movie. With a pitch perfect blend of drama, action, tragedy, and humour, The film delivers both thrills and heartrending moments bound to move the audience. The directorial feature film debut of Chen Bo Yilin, Moneyboys is elegantly framed and an affectingly played drama that had its world premiere in this year's Cannes in Un Certain Regard.
Berlin Grand Jury Prize winner, Wheel of Fortune and Fantasy, Japanese director Hamaguchi Ryusûke brings a gentle warmth to this ingenious collection of three stories united by themes of fate and mystery. Carlo Francisco Manatad, a prolific shorts director, editor, and frequent collaborator of Khavn De La Cruz, blends farce and tragedy in his first feature, Whether the Weather is Fine.
Q&A with Carlo Francisco Manatad