Celebrating 15 Years of Excellence: Asian Film Awards Exhibition
Experience the Asian Film Awards at special photo spots. Play the gacha machine for a chance to win celebrity autographs. LIN Min Chen and Vivian SUNG to meet and interact with fans
From 5 to 11 March, Asian Film Awards Academy will be holding Celebrating 15 Years of Excellence: Asian Film Awards Exhibition in Harbour City's Ocean Terminal Main Concourse. The exhibition looks back at 15 years of wonderful memories from past Asian Film Award ceremonies in anticipation for the upcoming 16th edition. As a pre-event of the 16th Asian Film Awards, the exhibition features a red carpet as a photo spot for visitors, precious photos of past AFA winners, the AFA trophy, as well as a gacha machine with autographed posters, AFA souvenirs, and coffee coupons. Enjoy the AFA experience at special photo spots and imagine yourself among the stars! The 16th Asian Film Awards will honour outstanding Asian filmmakers when it is held on 12 March at Hong Kong Palace Museum's Hong Kong Jockey Club Auditorium.
LIN Min Chen and Vivian SUNG to visit the exhibition
The AFA Academy has invited two Asian stars to visit the exhibition on 11 March. They are: AFA Youth Ambassador LIN Min Chen; as well as Taiwan actress and award presenter Vivian SUNG. They will be participating in two sessions respectively to interact with fans, so don't miss it!
Asian Film Awards Red Carpet
The red carpet at the entrance of the exhibition will lead visitors down the Avenue of Stars. Take photos with the large-scale display of the Asian Film Awards, experience what it's like to be at the Asian Film Awards ceremony and get the feeling of being a movie star on a red carpet.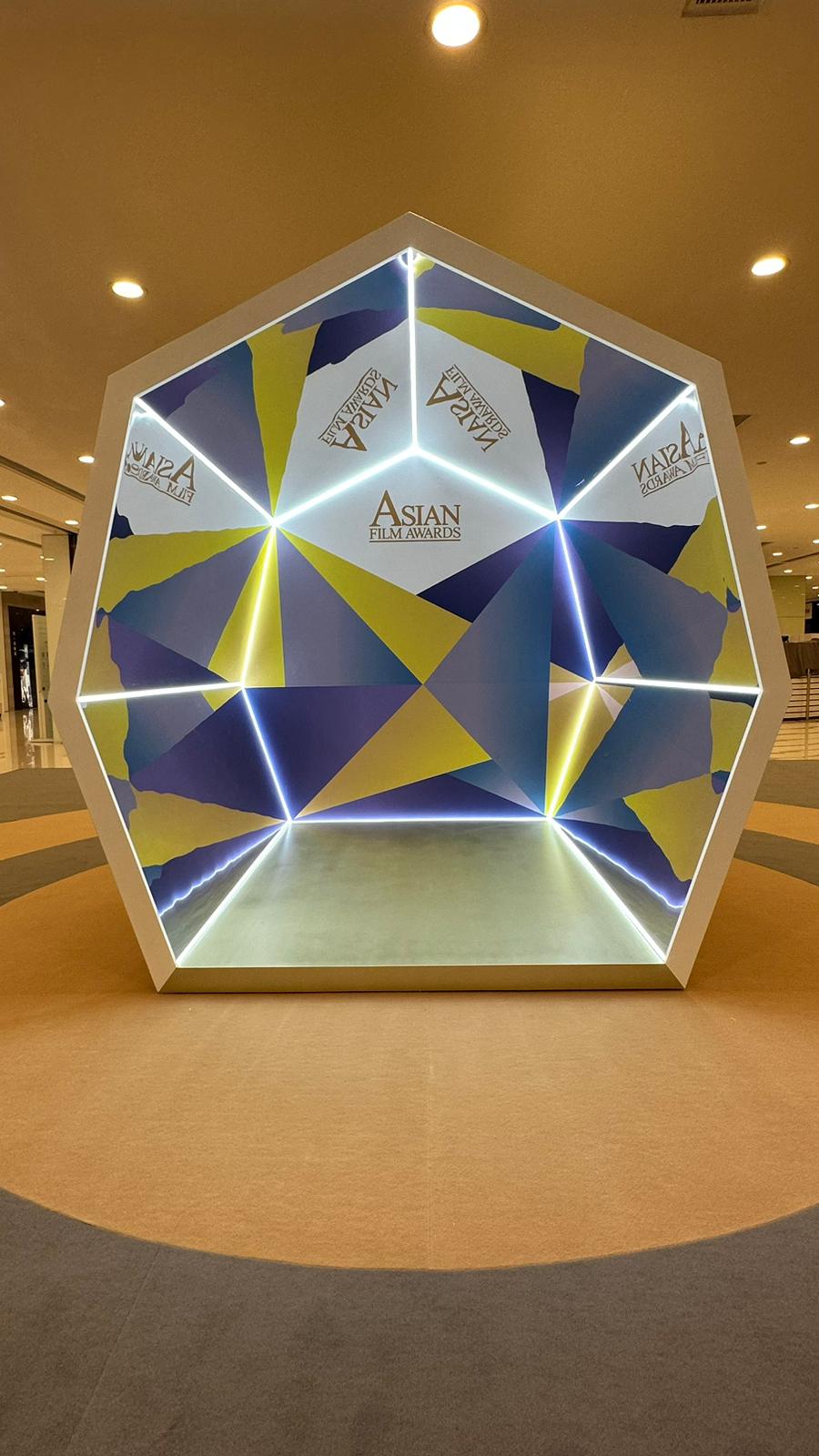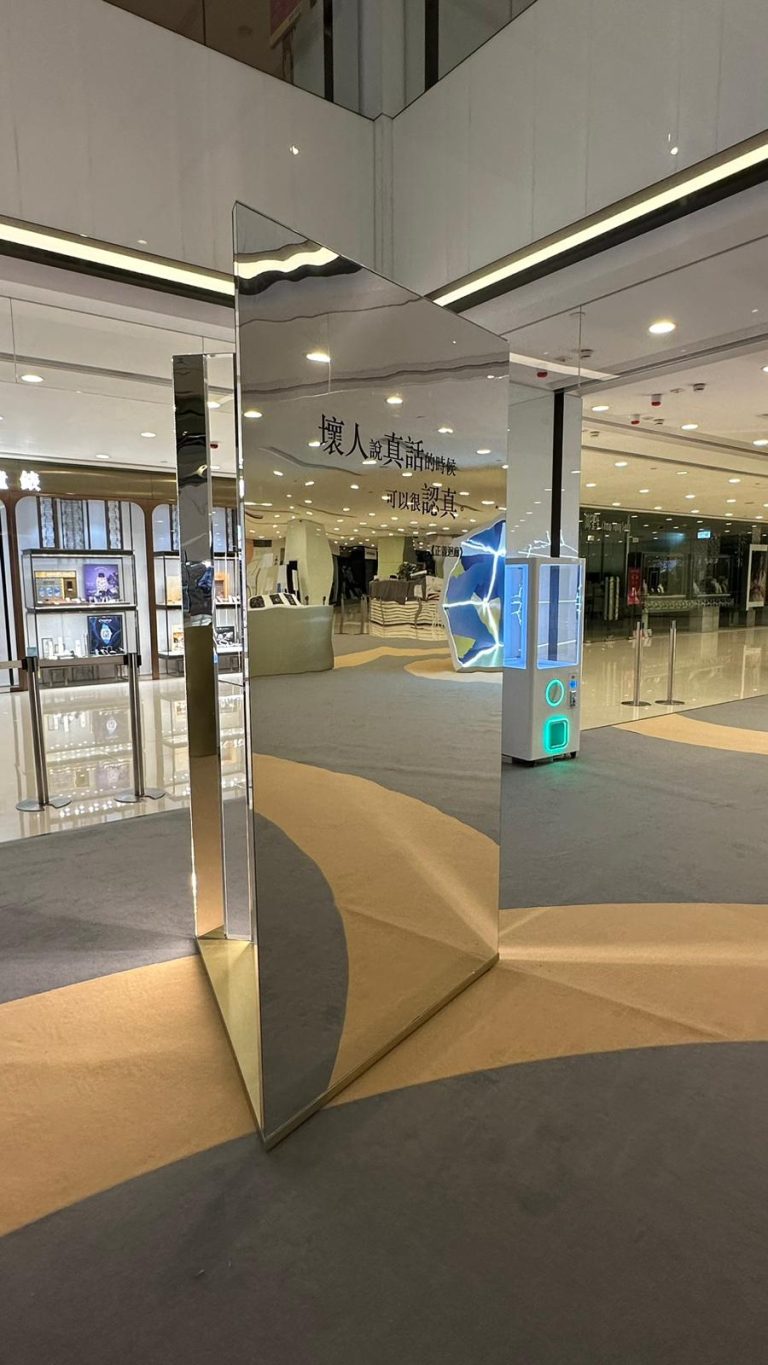 Immersive Photoshoot x Film Quotes Stereoscopic Mirror
Follow the exhibition route, and you will encounter an immersive photo spot and four stereoscopic mirror installations featuring famous movie quotes specially curated by the Asian Film Awards Academy. Not only can visitors get their photos taken here; they can also feel the charm of cinema from the quotes displayed on the mirrors.

Revisit Past Asian Film Awards Highlights
Before the arrival of the 16th edition, revisit highlights from the past 15 editions of the Asian Film Awards. The exhibition will show video clips of past acceptance speeches and photos of past award winners so visitors can relive the winners' moments of joy. Visitors can see up close the AFA trophy designed by award-winning art director William CHANG Suk Ping. They can also read brochures from previous award ceremonies so they can learn about the history of the awards, including past jury members, nominated films and recipients of special awards. These precious exhibits take visitors on a time machine to look back at past star-studded editions of the Asian Film Awards.
Gacha Machine with autographs by LIN Min Chen, Chrissie CHAU, Angela YUEN and LING Man Lung, special "Asian Film Awards x Vivian HO" goods, as well as coffee coupons
In addition to the exhibits, the Asian Film Awards Academy has also prepared special gifts to express gratitude to its supporters. Press "like" on the Asian Film Awards Academy Facebook page and follow the AFA Academy on Instagram. Show it to the AFA Academy staff at the exhibition on 11 March to play the gacha machine for your chance to win an autographed photo or poster, limited edition "Asian Film Awards X Vivian HO" limited edition gifts, or 15% off Cupping Room coffee coupons. The AFA Academy invited renowned Hong Kong artist and illustrator Vivian HO to use Asian cinema as inspiration for a series of products—including notebooks, tapes, multi-purpose pouches, commemorative cards and gel pens—that will be given away at the exhibition. Also, the AFA Academy has prepared posters with autographs of Youth Ambassador LIN Min Chen, Chrissie CHAU, Angela YUEN and LING Man Lung. Don't miss the exhibition for your chance to take these special gifts home!
And of course, don't forget to follow the 16th Asian Film Awards after visiting the exhibition! Returning to Hong Kong, this year's ceremony will be held on 12 March 2023 (Sunday). For the first time, the ceremony will be held in Hong Kong Palace Museum's Hong Kong Jockey Club Auditorium. PARK Chan Wook's Decision to Leave currently leads the race with ten nominations. Drive My Car, starring NISHIJIMA Hidetoshi, also has eight nominations, including Best Film and Best Director. India's Ponniyin Selvan: Part I is nominated for Best Film and five behind-the-scenes awards. Furthermore, Hong Kong films Where the Wind Blows, Anita, A Light Never Goes Out, Warriors of Future and The Sparring Partner are also nominated in various categories, challenging other outstanding films from Asia!
Asian Film Awards Academy
The Asian Films Awards Academy, a non-profit organisation, was founded by Busan, Hong Kong and Tokyo International Film Festivals with the shared goal of celebrating excellence in Asian cinema. Aiming to promote and recognize Asian films and its talents, AFAA highlights, strengthens and develops Asian film industry through the annual Asian Film Awards and several year-round initiatives.
The Asian Film Awards was inaugurated in 2007, where members of AFAA are drawn from its past nominees and winners. The category of awards includes Best Film, Best Director, Best Actor and Best Actress. Members vote for the Asian Film Awards and participate in various AFAA activities involving film professionals and audiences in Asia and around the world.
The 16th Asian Film Awards Ceremony
Date: 12 March 2023 (Sunday)
Location: Hong Kong Jockey Club Auditorium, Hong Kong Palace Museum, West Kowloon
Address: 8 Museum Drive, West Kowloon, Tsim Sha Tsui