Tony LEUNG Chiu Wai To Receive Asian Film Contribution Award At 16th Asian Film Awards
The globally renowned star to attend award ceremony on March 12th
The Asian Film Awards Academy announced today that world-renowned star Tony LEUNG Chiu Wai will receive the special Asian Film Contribution Award at the 16th Asian Film Awards. The Asian Film Contribution Award recognizes a filmmaker who has made exceptional contributions to the development of film culture in Asia and beyond. The purpose is to encourage mutual openness and communication in order to enrich the vitality of cinema culture in both East and West. On March 12th, LEUNG will attend the 16th Asian Film Awards Ceremony, where the elites of Asian cinema will gather under one roof.
A winner of countless film awards over a 40-year career
In the four decades since his debut, Tony LEUNG Chiu Wai has used his meticulous understanding of stories and characters to create countless memorable characters in many classic films. By taking part in these great films, he has become an indispensable part of Hong Kong film history. Many renowned directors who have collaborated with LEUNG sing his praises. WONG Kar-wai once said that LEUNG doesn't need words and that he can communicate everything with his eyes. ZHANG Yimou praised LEUNG is an outstanding and representative actor in Chinese cinema, his remarkable work has greatly marked his significant role in Asian cinema of our time. Once called LEUNG a "genius actor", Ang LEE mentioned that we are lucky to have LEUNG as an actor in Asian cinema, either in a filmmaker or an audience's perspective. Johnnie TO said he learnt the chemistry of actor and sincere acting from LEUNG, and hope to work with him once again. Also, HOU Hsiao-hsien said that LEUNG can express all the emotions of the world with just his eyes.
LEUNG specializes in the subtle and intricate portrayal of his characters, rendering his characters' features almost invisible. This introverted performance style enables him to flawlessly take on characters from different eras. His past characters include a man who is hard of hearing, a homosexual man, an undercover police officer, a ruthless spy, an ordinary urbanite, a private detective, an ancient military advisor, a Wing Chun grandmaster and a villain, showing just how versatile of a performer he is.
After years of experiences in the film industry, LEUNG's talent gradually gained recognition. He has won Best Actor five times at the Hong Kong Film Awards and three times at the Golden Horse Awards with films like Chungking Express and Infernal Affairs. He also won Best Actor at the Asian Film Awards for Lust, Caution. With In the Mood For Love, he even won international recognition by becoming the first Hong Kong actor to win Best Actor at the Cannes Film Festival.
LEUNG has been working with filmmakers across the region as early as the 1990's. He has been in multiple films directed by renowned Taiwan filmmaker HOU Hsiao-hsien, including Golden Lion winner City of Sadness and Golden Horse Jury Award winner Flowers of Shanghai. He has worked with Academy Award winner Ang LEE and 16th AFA Jury President ZHANG Yimou on Lust, Caution and Hero, which won the Golden Lion at the Venice Film Festival and an Academy Award nomination for Best Foreign Film, respectively. LEUNG has undoubtedly contributed to Chinese-language cinema and helped position Asian cinema on the world stage.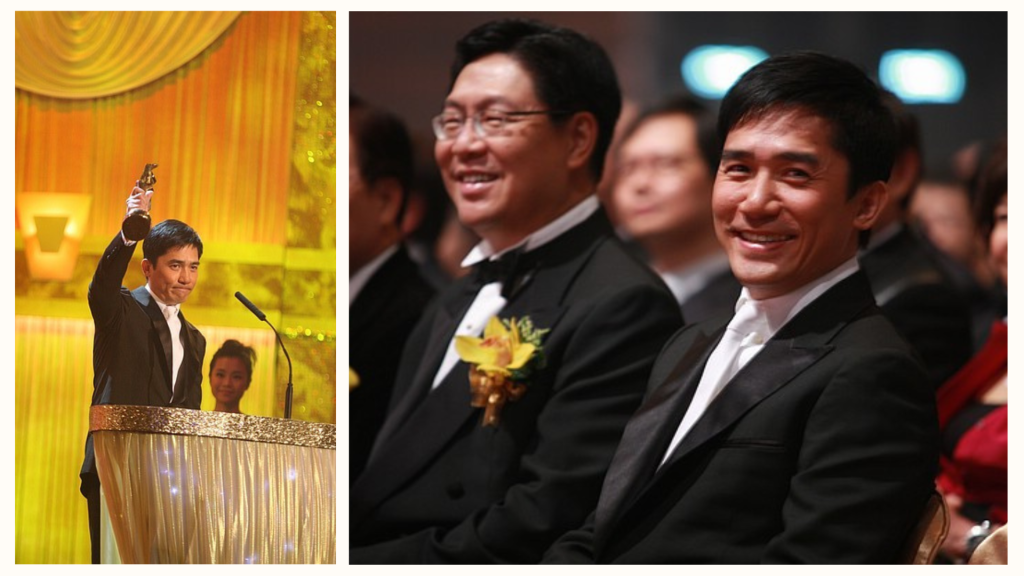 Taking the world by storm and unafraid of new challenges
LEUNG has extraordinary influence in Asian cinema and is loved by fans all over the world. He has shown the world the unique appeal of Asian cinema. In recent years, LEUNG has constantly challenged himself by tackling different genres. In recent years, he collaborated with Chinese filmmaker CHENG Er on spy thriller Hidden Blade. With a major role in Marvel Studio's first Asian-American superhero film Shang Chi and the Legend of the Ten Rings, he showed the extraordinary talent and unique aura of Chinese actors to the world. Marvel Studio president Kevin FEIGE once said that LEUNG's talent for bringing characters to life make him one of the best actors working today. Destin CRETTON the director of Shang Chi said LEUNG is a very professional actor as he could have played the villain as a pure evil, but he chose to play him with the capacity to love. CRETTON also mention that working with LEUNG was one of the greatest experiences of his career.
Dr. Wilfred WONG GBM, GBS, JP, AFA Academy Chairman, says, "The film industry came to a near-standstill for the past few years because of the pandemic. But as we come out of the crisis in 2022 and 2023, the Asian Film Awards can finally return to a fully physical edition. Thus, the Academy established this quinquennial honorary award to pay tribute to influential and era-defining filmmakers. Tony LEUNG Chiu Wai is not only the pride of the Chinese-speaking film world; his contribution to Asian cinema is easy for all to see."
ANDO Hiroyasu, Chairman of the Tokyo International Film Festival, congratulates LEUNG: "Tony LEUNG has set the gold standard for actors all across Asia. I thank him for his contribution to Asian cinema. I hope he will continue to devote himself to the film industry and bring a different kind of excitement to Asian films."
In addition, LEE Yong-kwan, Chairman of the Busan International Film Festival, says, "Tony LEUNG plays a pivotal role in Asian cinema. We hope that he will continue to exude his alluring performing talent so that he can unite the films and cinephiles of China, Japan and Korea, and promote Asian cinema to the world."
Fans from around the world can join in on the awards with simultaneous TV and internet broadcasts
To be held on March 12th at Hong Kong Palace Museum, the 16th Asian Film Awards will be broadcast simultaneously on TV and the internet at 7:45pm for fans everywhere. In addition to Hong Kong's TVB J2 channel, the ceremony will also be broadcast live on AFAA's YouTube channel and Naver from South Korea. The Academy will also be streaming the red carpet ceremony on its YouTube channel and Naver starting at 5 pm Hong Kong time. Fans and audiences can witness all the glitz and glamour and witness the winners' joy in real time. To get the latest news of the 16th Asian Film Awards, be sure to visit AFAA's social platforms!
The 16th Asian Film Awards Ceremony:
Date: March 12th, 2023 (Sunday)
Venue: HKJC Auditorium, Hong Kong Palace Museum
Address: 8 Museum Drive, West Kowloon
Live
17:00 Red Carpet Ceremony (AFAA YouTube Channel & Naver)
19:45 Award Ceremony (AFAA YouTube Channel, Naver and TVB J2)
Asian Film Awards Academy
The Asian Films Awards Academy, a non-profit organisation, was founded by Busan, Hong Kong and Tokyo International Film Festivals with the shared goal of celebrating excellence in Asian cinema. Aiming to promote and recognize Asian films and its talents, AFAA highlights, strengthens and develops Asian film industry through the annual Asian Film Awards and several year-round initiatives.
The Asian Film Awards was inaugurated in 2007, where members of AFAA are drawn from its past nominees and winners. The category of awards includes Best Film, Best Director, Best Actor and Best Actress. Members vote for the Asian Film Awards and participate in various AFAA activities involving film professionals and audiences in Asia and around the world.
The 16th Asian Film Awards Ceremony
Date: 12 March 2023 (Sunday)
Location: Hong Kong Jockey Club Auditorium, Hong Kong Palace Museum, West Kowloon
Address: 8 Museum Drive, West Kowloon, Tsim Sha Tsui