FEB | YOUNG FILM PROFESSIONALS PROGRAM
AFAA continued its cooperation with the prestigious German post-production company The Post Republic, AFAA provided two internship opportunities in DI/Color Grading and Sound departments. Two young local film professionals were selected to start a three-month internship in The Post Republic.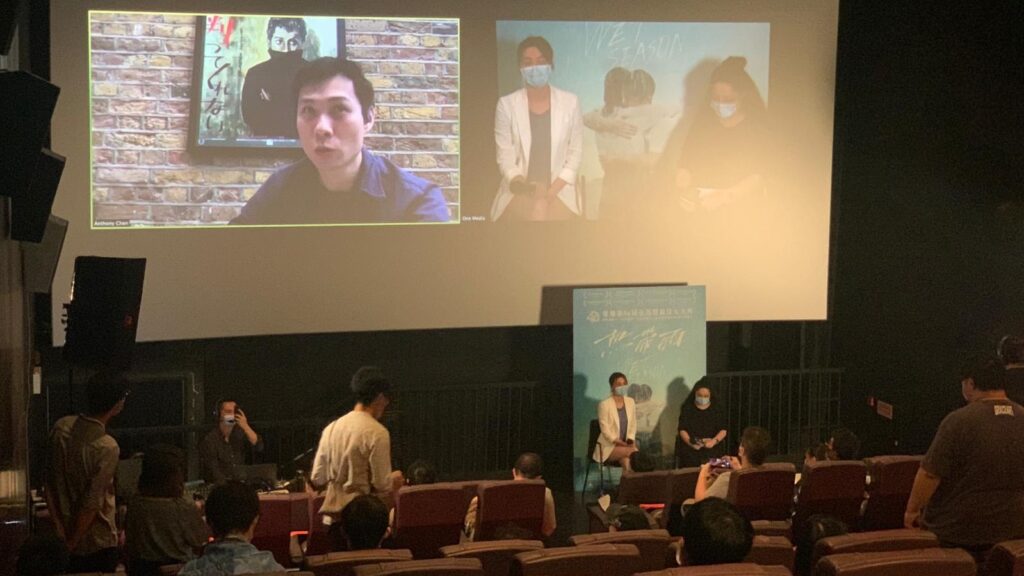 MAY | FILM CRAFT WORKSHOPS
This year was the third time of organizing Film Craft Workshops, AFAA collaborated with Broadway Cinematheque and the Hong Kong Academy for Performing Arts to organize our Film Craft Workshops, invited Singapore writer-director Anthony CHEN to share his experiences and knowledge in specialized areas of film production with film students and Hong Kong audiences. Director CHEN's work Ilo Ilo (2013) was awarded for Best Supporting Actress and nominated for the Best Director in the 8th edition of the Asian Film Awards. Due to the pandemic, audience listened and asked directory CHEN in a video conference call via online platform. The workshop mainly focused on his recent work Wet Season and script writing. We also invited a guest speaker, Norris WONG who has awarded for Best New Director in the Hong Kong Film Awards.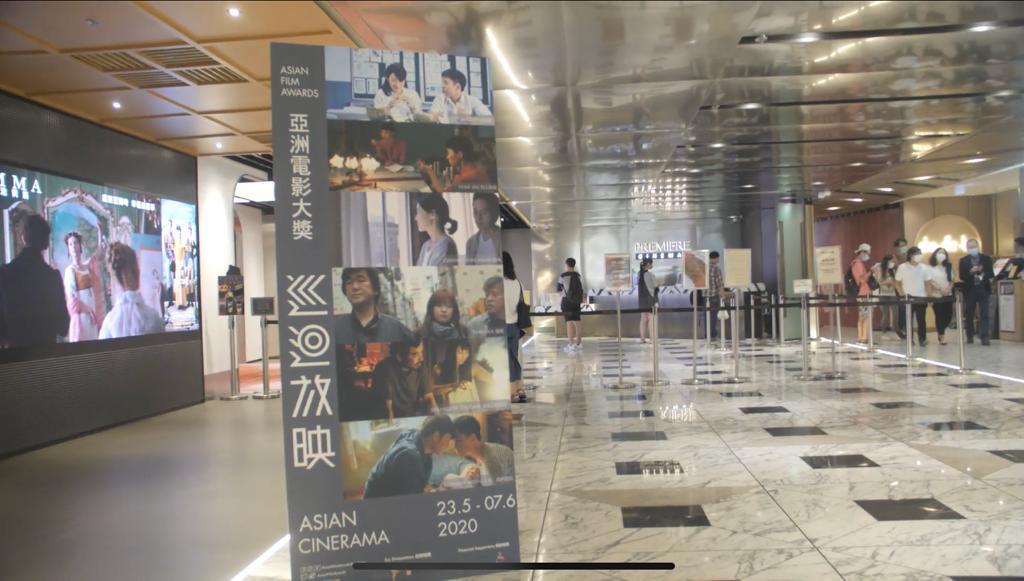 MAY | ASIAN CINERAMA
Collaborated with Hong Kong Asian Film Festival, AFAA organized Asian Cinerama with presenting six outstanding Asian Films. The programme opened with Wet Season by a Singaporean director Anthony CHEN who was nominated in the 8th edition of Asian Film Awards, a workshop had been held after the first screening of Wet Season. Other outstanding Asian films that showcased in the programme included, first-time director Katayama Shinzo's Siblings of the cape; Goodbye Mother, by new Vietnamese director Trinh Dinh Le Minh; Fukuoka, directed by Korean-chinese director Zhang Lu who was nominated the best director in the 2nd edition of AFA, etc.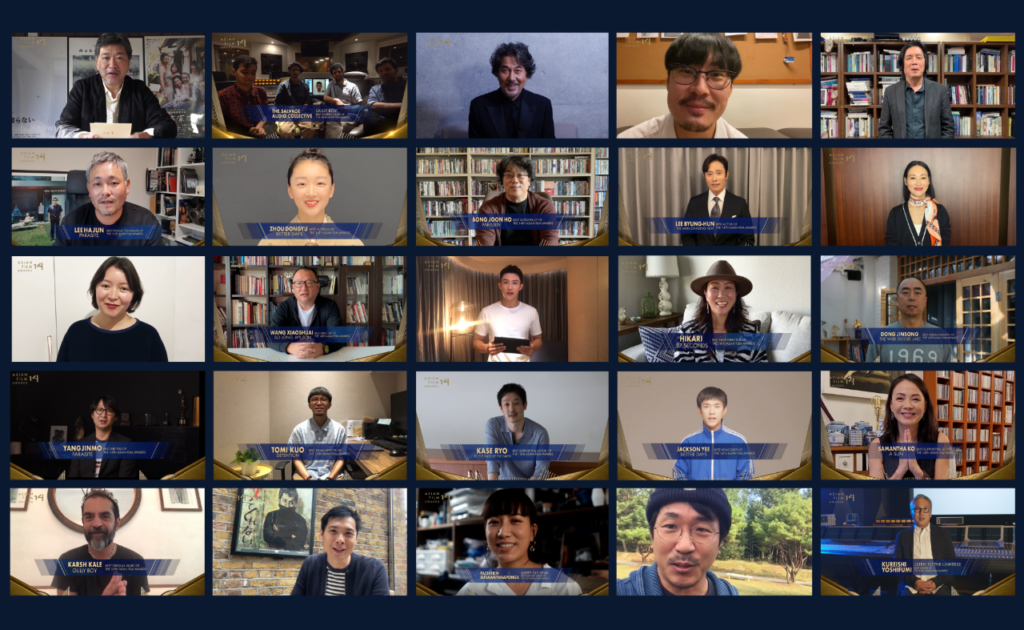 OCT | ASIAN FILM AWARDS
The Asian Film Awards Academy proudly presented the 14th Asian Film Award and for the first time ever, the awards presentation aligned with Busan International Film Festival. Given the ongoing COVID-19 pandemic, the awards presentation was broadcasted online on AFAA and Busan International Film Festival's official websites and YouTube Channels. The Best Picture award was made to Parasite, which also won Best Screenplay for co-writers HAN Jin Won and the film's director BONG Joon Ho. The film also won for Best Production Design and Best Editing totaling four awards. We were happy to receive support from internationally renowned filmmakers KOREEDA Hirokazu, LEE Chang-dong, Nawapol THAMRONGRATTANRIT, Anthony CHEN, and world acclaimed film talents YAKUSHO Koji, Samal YESLYAMOVA, YANG Ik-joon, Kara WAI and Johnny HUANG Jingyu to announce the winners. It was the unity of Asian cinema in such difficult times.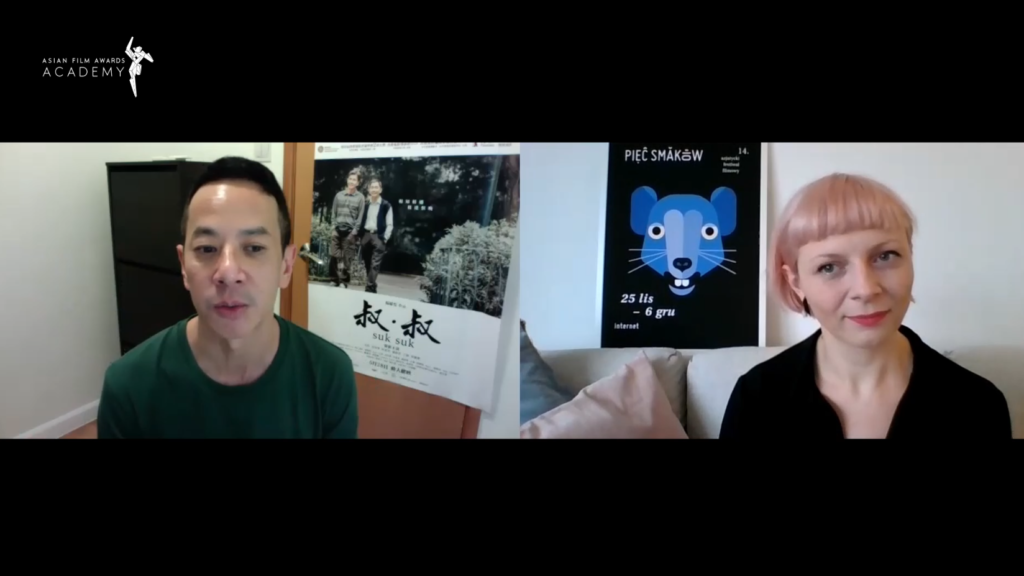 NOV | ASIAN CINERAMA
AFAA continued the partnership with Five Flavours Asian Film Festival (FFAFF) and held Asian Cinerama program. This year FFAFF was held in hybrid format to provide precious chances for audience over Poland to watch Asian films under different Covid-19 circumstance. Six of the 14th Asian Film Awards nominations were selected for the program, included two Hong Kong productions, My Prince Edward and Suk Suk, Gundala, Gully Boy, Kim Ji-young, Born 1982 and One Night. Filmmakers from My Prince Edward, Suk Suk and Gundala were invited to record online Q&As with festival programmers and we hoped via holding the Q&A sessions, audience could have a deeper understanding on their works and film industry in Asian countries.