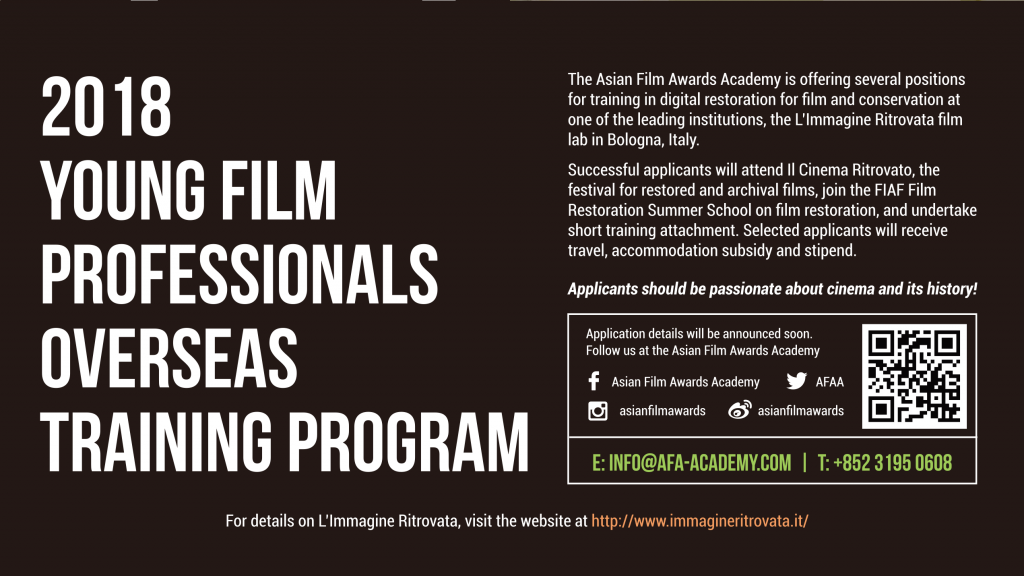 Date: June – September 2018
Location: Bologna
Partners: L'Immagine Ritrovata
The AFA Academy's Young Film Professionals Program offers overseas training opportunities in mature film industries to enable promising early career professionals in film to develop their skills, international outlook, professional relationships and knowledge so as to move to the next stage of their career. A total of six candidates were sent to L'Immagine Ritrovata in Bologna, Italy to learn working methods, structures, technologies, and peer networking in the company specializes and excels in film restoration. Two candidates participated in the summer program, which lasted for three months and included the participation in the FIAF Film Restoration Summer School and Il Cinema Ritrovato film festival; while the other four candidates were sent to the same company for a one-month on-job training. The Program also serves to develop the relationship between Asian film professionals with those that are outside the region.
Founded as part of the Fondazione Cineteca di Bologna, L'Immagine Ritrovata is a highly specialized film restoration laboratory, and has been a pioneer in the development of methodologies and research in the preservation of film heritage and a world-renowned standard of reference in the field of film restoration. The laboratory is furnished with facilities for all aspects of film restoration workflow from 4K digital to photochemical restoration, designed and capable of handling the restoration of films from every cinematic age.
L'Immagine Ritrovata is committed to the facilitating and sharing of film preservation knowledge and experience to professionals from all over the world, and has organized training courses such as the FIAF Film Restoration Summer School, and other short term film restoration courses at cities including Singapore, Mumbai, Buenos Aires where experts and cinephiles can converge and exchange ideas for the advancement of film restoration.
Welcome to watch the interview with candidates: