Asian Cinerama in Hong Kong: First Collaboration with MOViE MOViE
The first round of Asian Cinerama 2022 was successfully held, ten films and video clips made by internationally renowned auteurs and new directors were screened
The Asian Film Awards Academy collaborates with MOViE MOViE for the first time in presenting AFAA's flagship film roadshow – Asian Cinerama (the programme). Financially supported by Create Hong Kong and the Hong Kong Film Development Fund, the programme had taken place in MOViE MOViE Cityplaza, MOViE MOViE Pacific Place and PREMIERE ELEMENTS from 20 to 29 May 2022.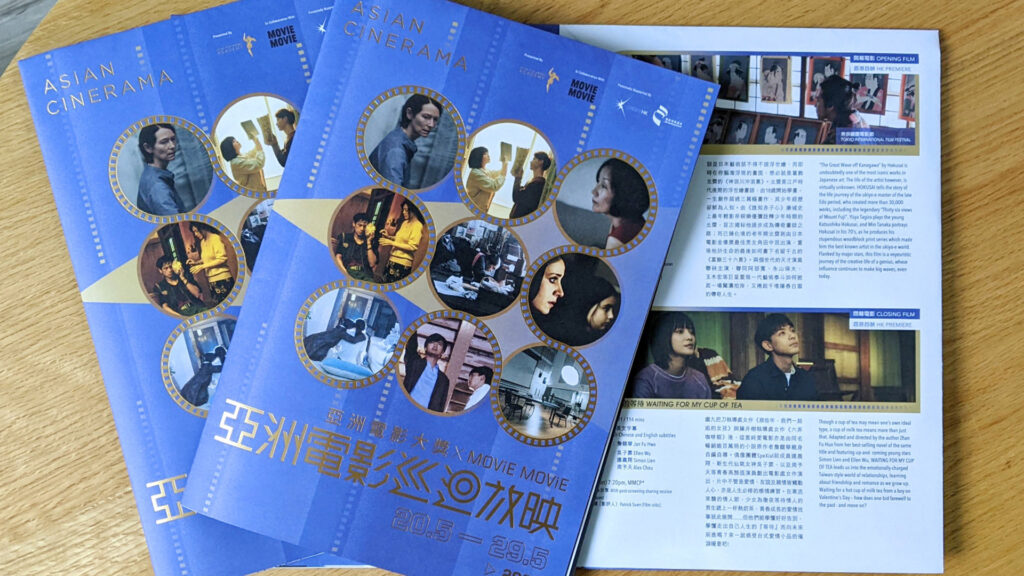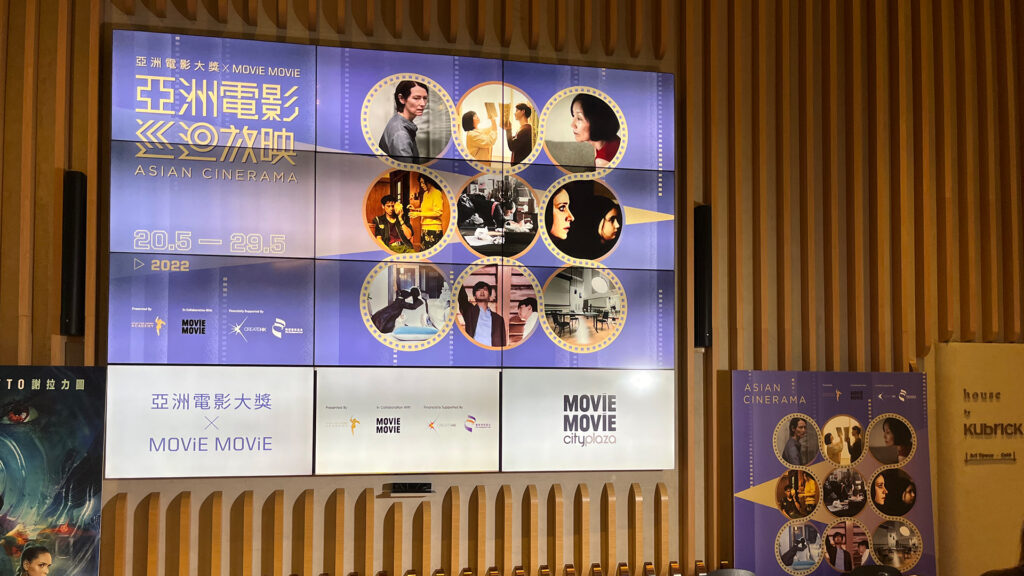 The programme screened ten films and video clips made by internationally renowned auteurs and new directors. It opened with Hokusai, a depiction of the frantic life of Japanese legendary ukiyo-e artist Katsushika Hokusai; and closed with Waiting for My Cup of Tea, the directorial debut of well-known Taiwanese scriptwriter and novelist Phoebe Jan. Both films made their Hong Kong premiere at the programme. Other films that were showcased in the programme include The Apartment with Two Women, New Currents Award winner at Busan International Film Festival; Memoria, Thai auteur Apichatpong Weerasethakul's metaphysical drama; In Front of Your Face, South Korean independent filmmaker Hong Sang-soo's latest work; Love Unto Waste, a newly-restored romance-thriller from Stanly Kwan; Ballad of a White Cow, an Iranian drama which depicts a woman's journey for justice; Are You Lonesome Tonight, a twisting crime thriller starring Sylvia Chang and Eddie Pen; and Three Women, a valuable gem shot on film for ICAC by Ann Hui before her debut on the big screen. Meanwhile, Edward Lam's special program Sh(ar)e, a series of oral histories featuring established actresses such as Sylvia Chang, Louise Lee and Elaine Jin sharing their experiences, was presented as well. Several screenings followed an online Q&A session, where filmmakers and actors are able to interact with the audiences.
Tickets for most screenings were sold out due to overwhelming demands, additional screenings of Memoria and Love Unto Waste (restored) were arranged.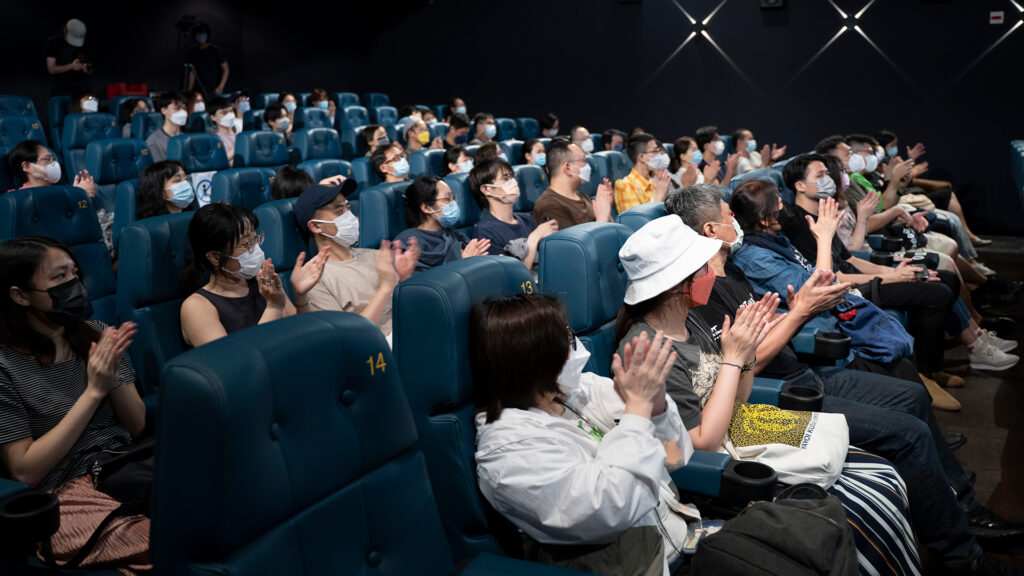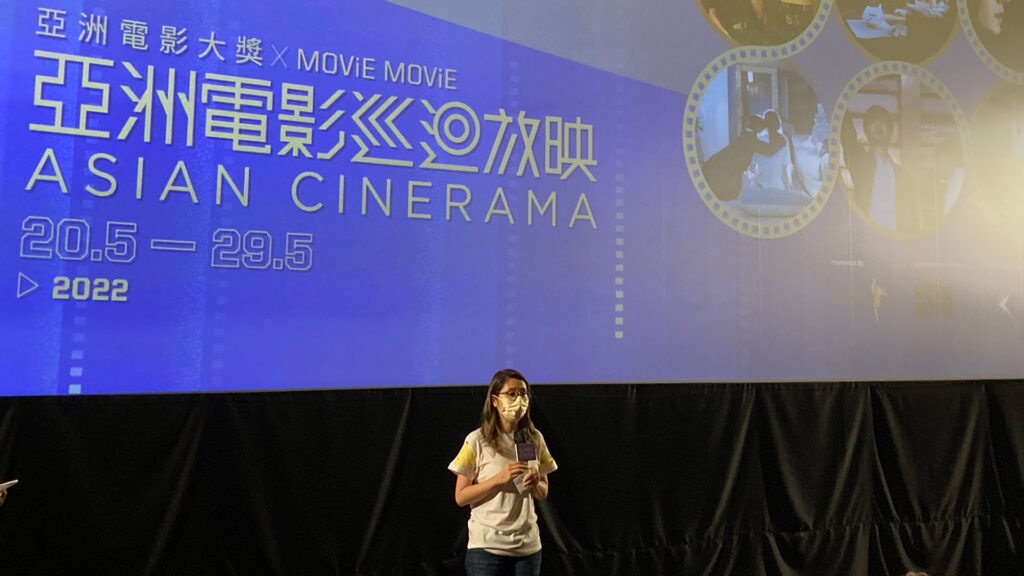 Josie Lin, Executive Director of Asian Film Awards Academy spoke at the opening ceremony: "It is our honor to collaborate with MOViE MOViE for the first time to present the first round of Asian Cinerama in 2022. We would like to take this opportunity to thank both overseas and local film festivals and film organizations for their generous support so that we can keep our events going despite the hardship of the pandemic. We strive to promote outstanding Asian cinematic works, as well as to develop interest in Asian cinema among the industry and audiences in Asia and beyond."
Hajime Hashimoto, the director of Hokusai, mentioned his appreciation for ukiyo-e and Katsushika Hokusai during the post-screening Q&A session. His initiative in making this film was to introduce this Japanese painting to each of us as he thinks that art is for everyone. He also believed that art, including both painting and films, have the power to change the world.
The director and two main characters of Waiting for My Cup of Tea, Phoebe Jan Fu-hua, Simon Lien and Ellen Wu greeted our audience in the Q&A session. They talked about the scenes that impressed them the most. For Phoebe, it is the argument scene between Simon and Ellen; Simon mentioned about his first attempt to ring Ellen's doorbell; and Ellen pointed out the scene where Simon took her to a secret spot in Hehuan Mountain.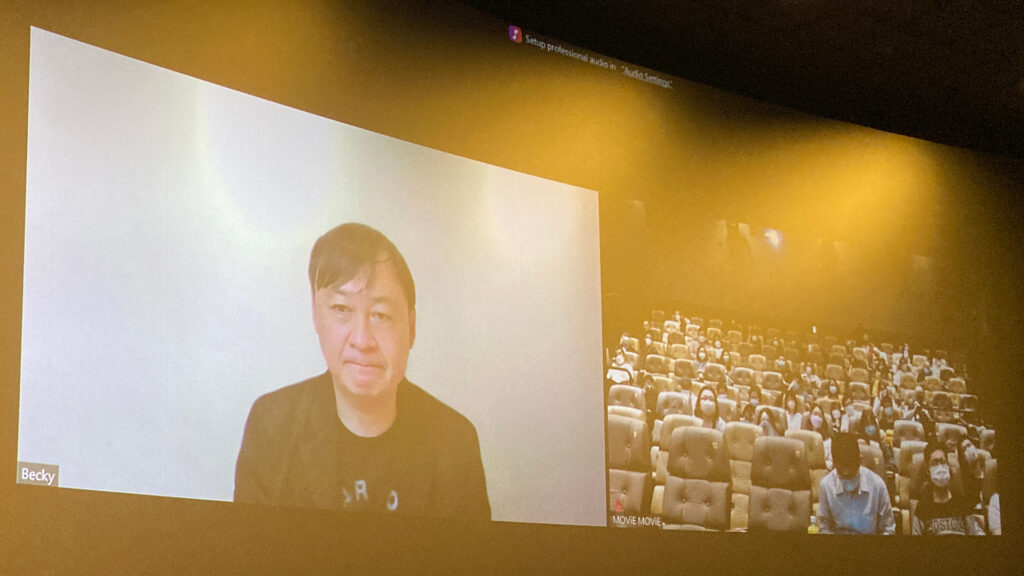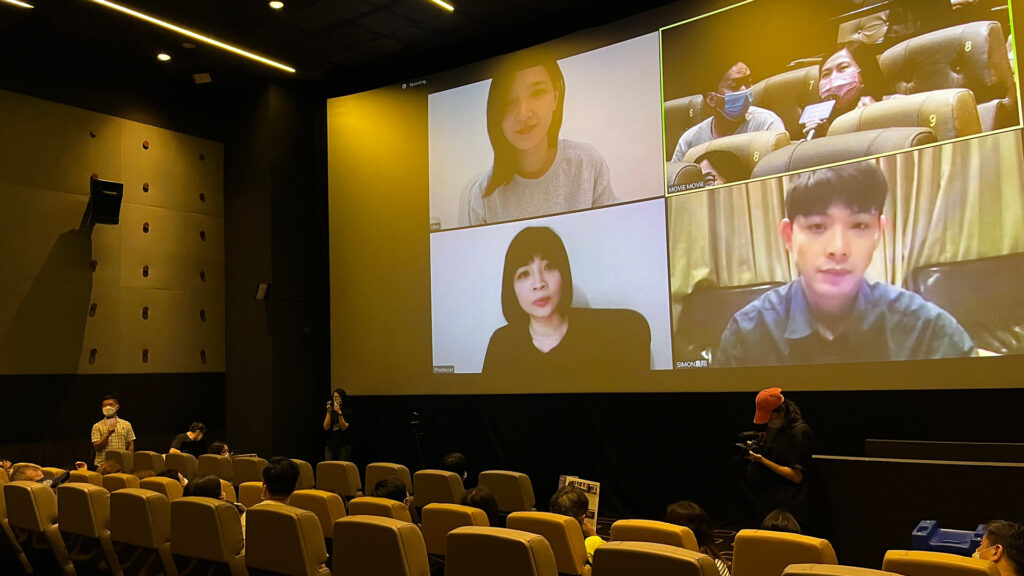 Both filmmakers of Ballad of a White Cow, Maryam Moqadam and Behtash Sanaeeha, joined virtually and revealed the story idea was actually inspired by Maryam's parents' lives as her father was executed after the revolution. The story was written 10 years ago, yet it was difficult for them to find investors and obtain a shoot permit due to the sensitive subject. They eventually found a small budget 2 years ago and got the permit with a comparatively more conservative script.
All post-screening sharing sessions would not have run smoothly without Patrick Suen, a professional film critic, to be the host. He sparked lively conversations and kept the audiences engaged. Meanwhile, Stanley Kwan, director of Love Unto Waste, and Shipei Wen, director of Are You Lonesome Tonight, also attended the sharing session.
Edward Lam, together with the actresses and artists in his program, including Sylvia Chang, Louise Lee and Elaine Jin, showed up after the screening. Louise Lee recalled her career and said her roles have long been limited to either an ill patient or old lady. She could only be herself after she ended her contract with the TV station, and through her posts on social media.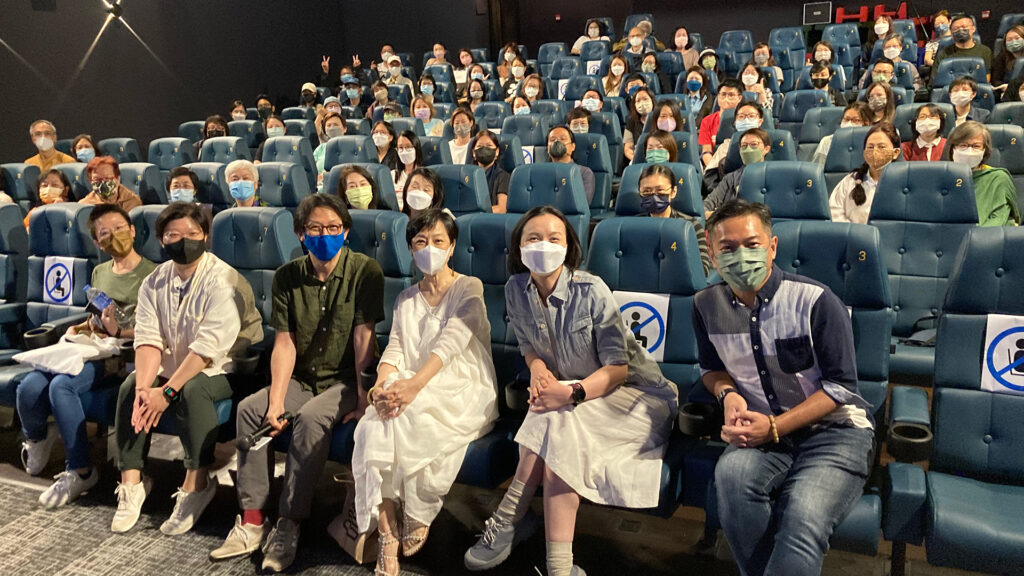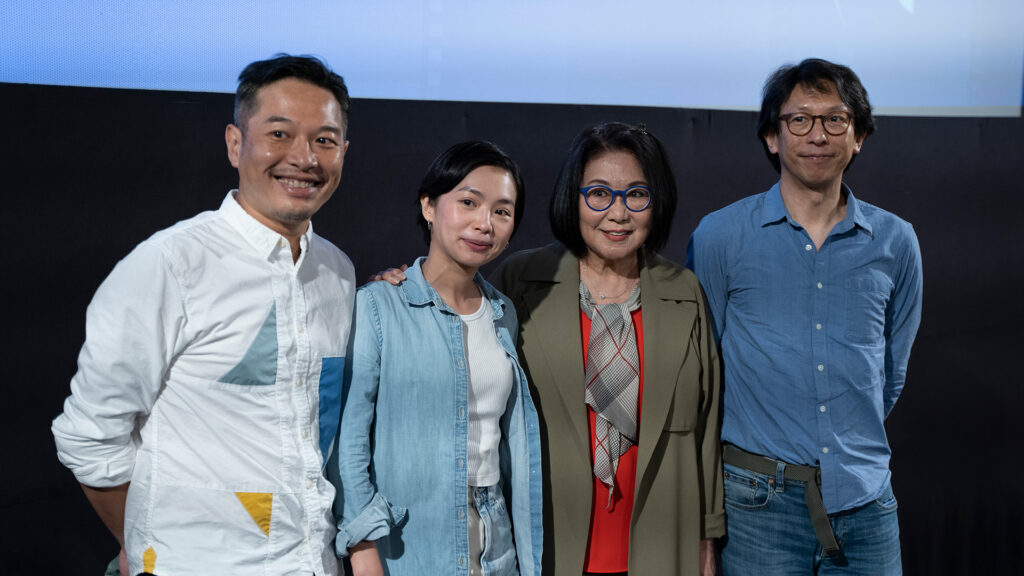 Asian Film Awards Academy (AFAA)
The AFAA is formed by three (3) established Asian Film Festivals – Busan, Hong Kong and Tokyo in 2013. It highlights, strengthens, and develops Asian film industry and culture through the annual Asian Film Awards, and several year-round initiatives for building regional and international audiences such as the Masterclass Series, Film Craft Workshops, Asian Cinerama, Journey to the Fest, Young Film Professionals Training Program, and Hong Kong Film Gala Presentation.
MOViE MOViE
Launched as an international movie channel (Now TV ch 116) to bring the finest global hits and festival gems into the home since 2012, the innovative lifestyle-driven MOViE MOViE concept has expanded to cinemas located at Cityplaza and Pacific Place in 2017 and 2020 respectively, providing an all-around movie-viewing experience. MOViE MOViE PLAY on Now E, our online viewing platform launched in 2018, helps you experience the joy of cinema anywhere.
Create Hong Kong (CreateHK)
CreateHK is a dedicated office set up under the Commerce and Economic Development Bureau of the Government of the Hong Kong Special Administrative Region to lead, champion and drive the development of the creative economy in Hong Kong. It co-ordinates governmental policy and effort regarding creative industries, focuses governmental resources for the promotion and speeding up of the development of creative industries in Hong Kong, and works closely with the trade to boost the development of creative industries.
Film Development Fund (FDF)
The Film Development Fund was first set up by the Government of the Hong Kong Special Administrative Region in 1999 to fund projects and activities which contribute towards the development of the Hong Kong film industry, including part-financing small-to-medium budget film productions; enhancing efforts to promote Hong Kong films in the Mainland and overseas; enhancing initiatives to train talents in various aspects of film production and distribution; and enhancing the interest and appreciation of Hong Kong films by the local audience.