Asian Film Awards Youth Ambassador Lin Min Chen attended an Urdu Calligraphy Class with Ethnic Minority Children
Calligraphy class at International Social Service Hong Kong Branch HOPE Support Service Centre for Ethnic Minorities
The Asian Film Awards Academy (AFAA) was delighted to join hands with International Social Service Hong Kong Branch to invite the 16th Asian Film Awards Youth Ambassador LIN Min Chen to attend an Urdu calligraphy class with ethnic minority children and teens at HOPE Support Service Centre for Ethnic Minorities on February 2, 2023.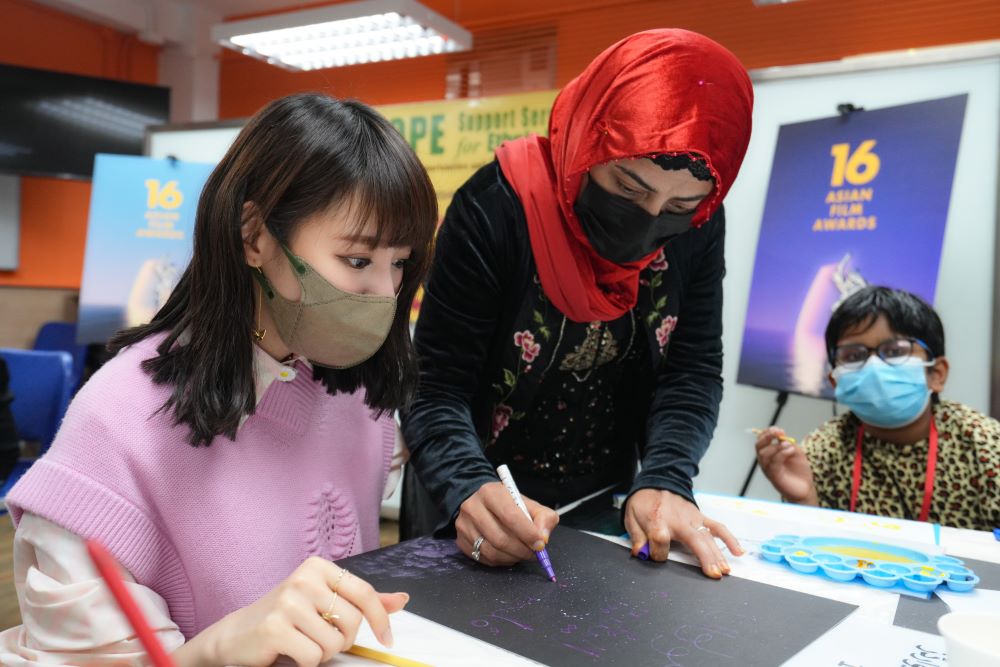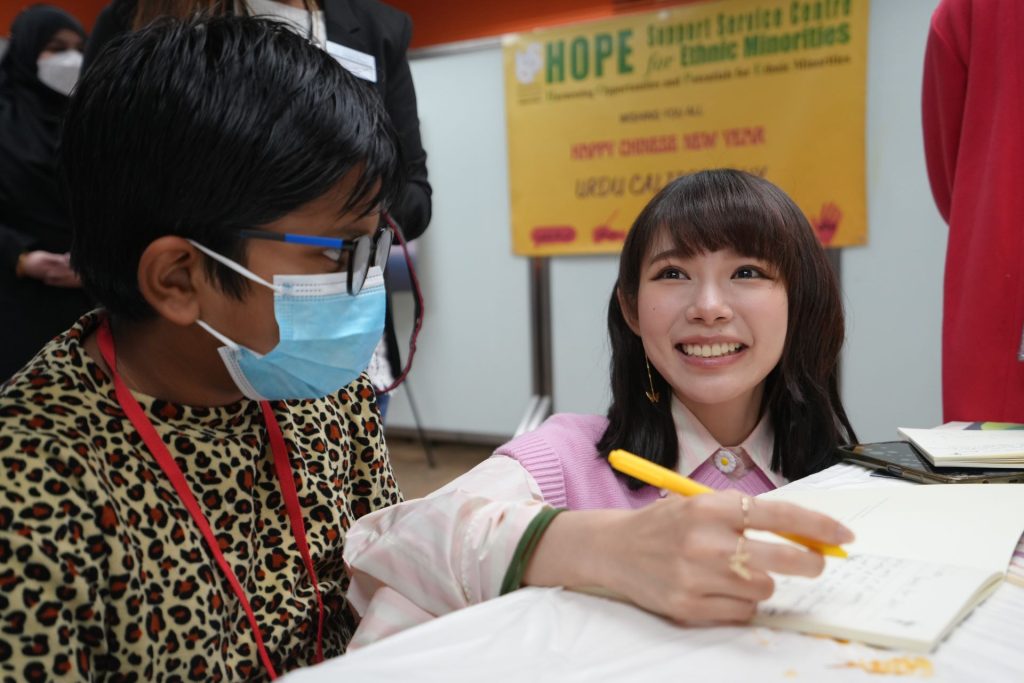 The children were both excited and curious about having an actress as a special guest in the calligraphy class. LIN first greeted the children in English, "My name is LIN Min Chen. I am an actress, but today I am your classmate!" To celebrate Chinese New Year, LIN and the children learnt to say and write new year greetings such as "Dreams Come True", "Stay Healthy", and "Happy New Year" in Urdu. They also practised writing "16th Asian Film Awards" in Urdu. They wrote the phrases on paintings that matched the colours of the 16th Asian Film Awards key visual, creating colourful artworks. Warm fuzzies filled the room as LIN and the children showed their calligraphy work to one another.
Following the calligraphy class, LIN, on behalf of the Asian Film Awards Academy, presented "AFAA X Vivian Ho" stationery sets to the children as souvenirs, and encouraged them to make good use of the pen and the notebook to write down their new year wishes and resolutions. The children were eager to share their new year goals with LIN, and LIN wrote "Dreams Comes True" in Urdu and heartfelt messages on their notebooks to express her encouragement.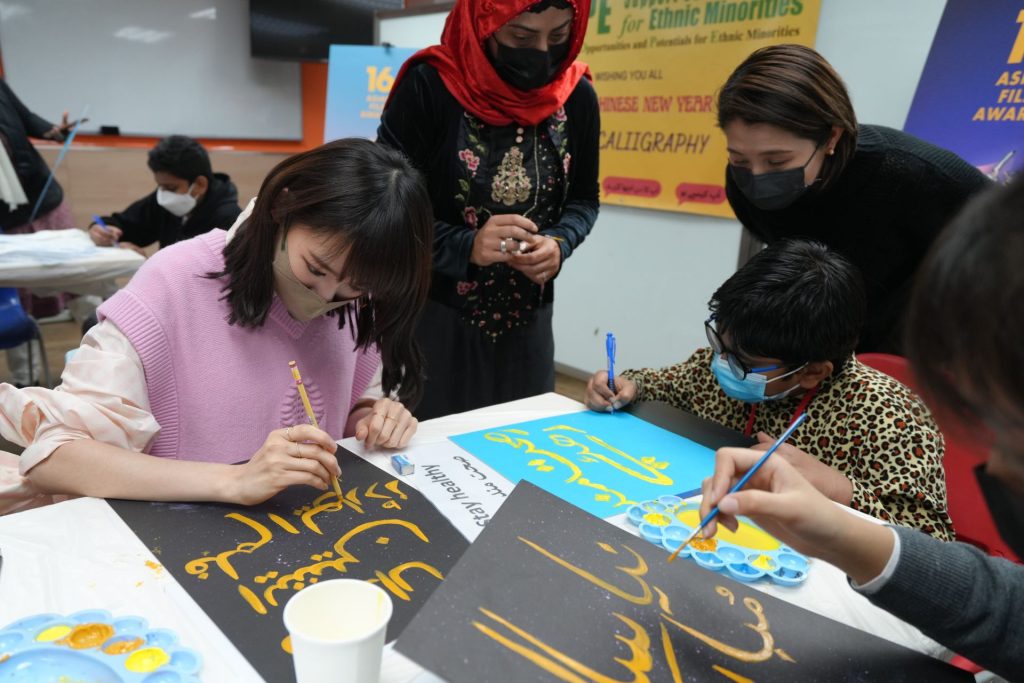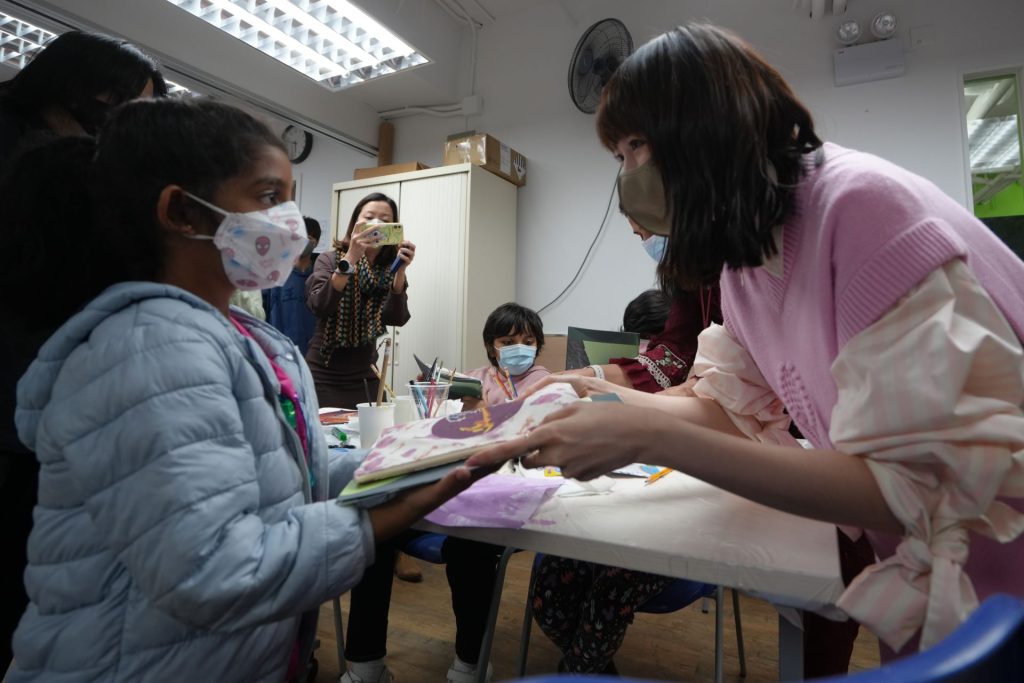 Mr James Suen, Director of Programme, Migrants Programme of International Social Service Hong Kong Branch said, "HOPE Support Service Centre has always strived to provide diversified services to members of ethnic minorities in the region. We are glad to have Ms. LIN Min Chen as a special guest at the calligraphy class and it was a precious opportunity for cultural exchange." 
LIN expressed, "I am so happy to be here as the AFA Youth Ambassador, talking with the children and learning to write in Urdu together. I look forward to having another opportunity to spend time with them!"
Asian Film Awards Academy
The Asian Film Awards Academy, a non-profit organization, was founded by Busan, Hong Kong, and Tokyo International Film Festivals to celebrate excellence in Asian cinema. Aiming to promote and recognize Asian films and their talents, AFAA highlights, strengthens, and develops the Asian film industry through the annual Asian Film Awards and several year-round initiatives.
The Asian Film Awards was inaugurated in 2007, where members of AFAA are drawn from its past nominees and winners. The category of awards includes Best Film, Best Director, Best Actor, and Best Actress. Members vote for the Asian Film Awards and participate in various AFAA activities involving film professionals and audiences worldwide. 
International Social Service Hong Kong Branch HOPE Support Service Centre for Ethnic Minorities
As an integral part of the ISS worldwide network, ISS Hong Kong works closely with other ISS units around the globe in providing inter-country social work and cross-border social services to needy children and families between Hong Kong, Mainland China and across countries. It has established a strong reputation in serving migrants (Chinese and non-Chinese), divided families and cross-border families as well as asylum seekers and refugees. In response to the local community's needs, it also provides an array of services for families, children, youths and the elderly including adoption, foster care, small group home, integrated family service, school social work etc.
As a support service centre for ethnic minorities, HOPE stands for Harnessing Opportunities and Potentials for Ethnic Minorities. It advocates the integration of ethnic minorities in Hong Kong society, creating a community with cultural diversity, racial harmony and equality.
The 16th Asian Film Awards Ceremony
Date: 12 March 2023 (Sunday)
Location: Hong Kong Jockey Club Auditorium, Hong Kong Palace Museum, West Kowloon
Address: 8 Museum Drive, West Kowloon, Tsim Sha Tsui