Notable Asian Directors and Actors to Meet the Hong Kong Audience in Person at Asian Cinerama
Not only will audiences get to see these incredible films on the big screen, but they will also get to meet the nominees in person at the post-screening section. This is a rare opportunity not to be missed.
The Asian Film Awards Academy announced today that eight outstanding nominated films of the 16th Asian Film Awards will be screened in Hong Kong specially before the Awards Ceremony on 12 March. World-class filmmaking masters Lav DIAZ, HAMAGUCHI Ryusuke, KORE-EDA Hirokazu, and Darezhan OMIRBAYEV will visit Hong Kong and greet the audience at the post-screening session. In addition, YIM Si-wan (Emergency Declaration); and Happy SALMA & director Kamila ANDINI (Before, Now & Then) will also attend screenings to represent their nominated films. Don't miss this once-in-a-lifetime opportunity!
The Asian Cinerama – 16th Asian Film Awards Selection is presented by the Asian Film Awards Academy, in collaboration with MOViE MOViE, and financially supported by Create Hong Kong and the Film Development Fund. Screenings will be held from 10 March to 12 March at MOViE MOViE Cityplaza, MOViE MOViE Pacific Place and PREMIERE ELEMENTS. Tickets will go on sale on 20 February 6:00pm online (www.cinema.com.hk) and at the respective cinemas' box office. Tickets are limited.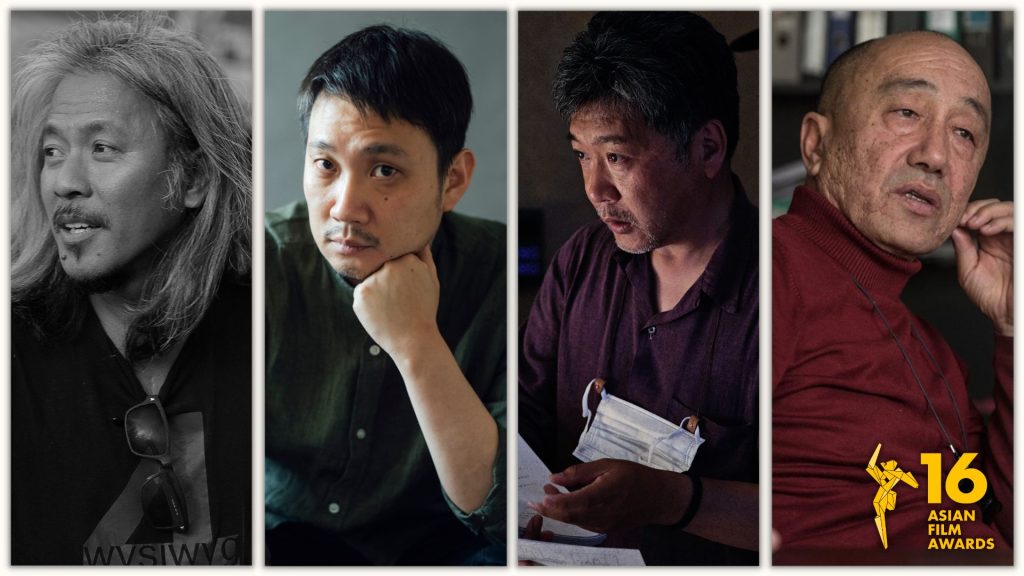 Screenings of eight nominated films of the 16th Asian Film Awards
This Asian Cinerama features all five Best Film nominees: Decision to Leave, Drive My Car, Poet (The first Best Film nominee from Kazakhstan), Indian period epic Ponniyin Selvan: Part I and Filipino social drama When the Waves Are Gone. The selection also included Broker (nominated for Best Director), Before, Now & Then (five nominations including Best Actress), and Emergency Declaration (nominated for Best Supporting Actor and Actress).
Star-studded post-screening sessions
Oscar winner HAMAGUCHI Ryusuke (Drive My Car), Tokyo Film Festival Best Director winner Darezhan OMIRBAYEV (Poet), Golden Lion winner Lav DIAZ (When the Waves Are Gone), Cannes Palme d'Or winner KORE-EDA Hirokazu (Broker), Before, Now & Then director Kamila ANDINI and star Happy SALMA, as well as Emergency Declaration Best Supporting Actor nominee YIM Si-wan will attend screenings of their respective films to meet the audience.
Josie LIN, Executive Director of Asian Film Awards Academy, says, "I'm thrilled to have these incredible nominated films of the 16th Asian Film Awards screened at our special programme – Asian Cinerama before the Awards Ceremony. Not only will audiences get to see these incredible films on the big screen, but they will also get to meet the nominees in person at the post-screening section. This is a rare opportunity not to be missed."
Joycelyn Choi, General Manager of MOViE MOViE, says, "Asian films have been getting increasingly more attention on the world stage, and we are proud to collaborate with the Hong Kong Film Awards again to present this special edition of Asian Cinerama. It is very uplifting for the film industry and cinemas, which were so badly hit by the pandemic, to welcome so many internationally acclaimed master filmmakers and movie stars to join our screenings and meet the Hong Kong audiences in cinemas. I hope audiences will cherish this rare opportunity to watch such outstanding films on the big screen."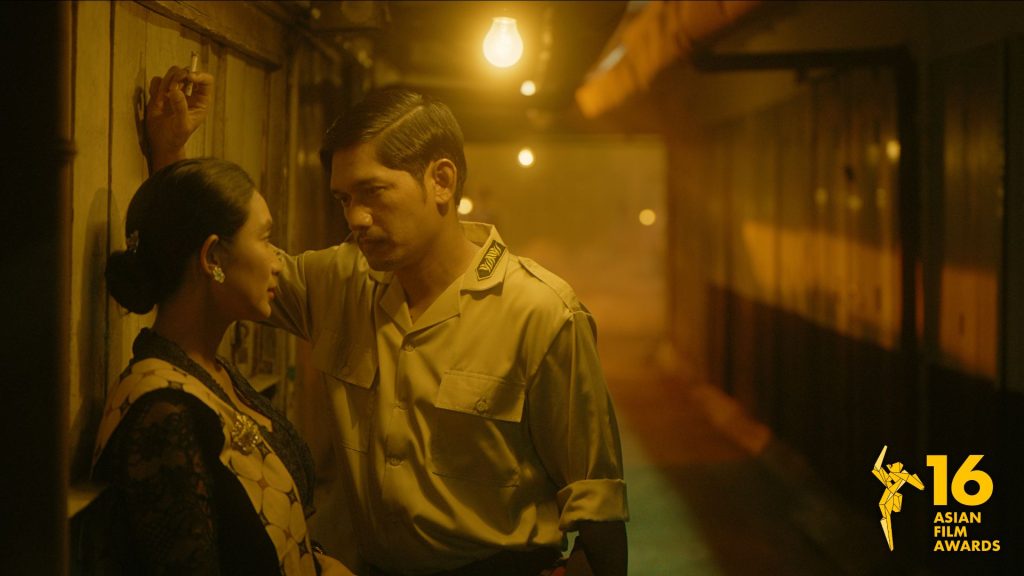 Before, Now & Then
10 March 2023 (Fri) 19:30 MOViE MOViE Pacific Place
Synopsis
In the late 1960s, Nana loses her poverty-stricken family to the war in West Java and re-marries for a new life with a wealthy husband. Yet her place at home is menial, and she suffers in silence from her husband's infidelity. One day, Nana meets one of the mistresses, Ino, and everything changes. Ino becomes the only person she trusts and offers her comfort. As they confide secrets to each other, their lives intertwine, and together they look for the hope to free themselves from the patriarchal social dictates of the era.
Concerned with social culture, gender equality and environmental issues, Indonesian director Kamila Andini delivers a remarkable portrait of a woman battling the trauma of war, fighting to find the meaning of her freedom as a woman in a patriarchal society, yet never once made herself a victim, even if she cannot be separated from making sacrifices.
Guests: Kamila ANDINI, Happy SALMA, Batara GOEMPAR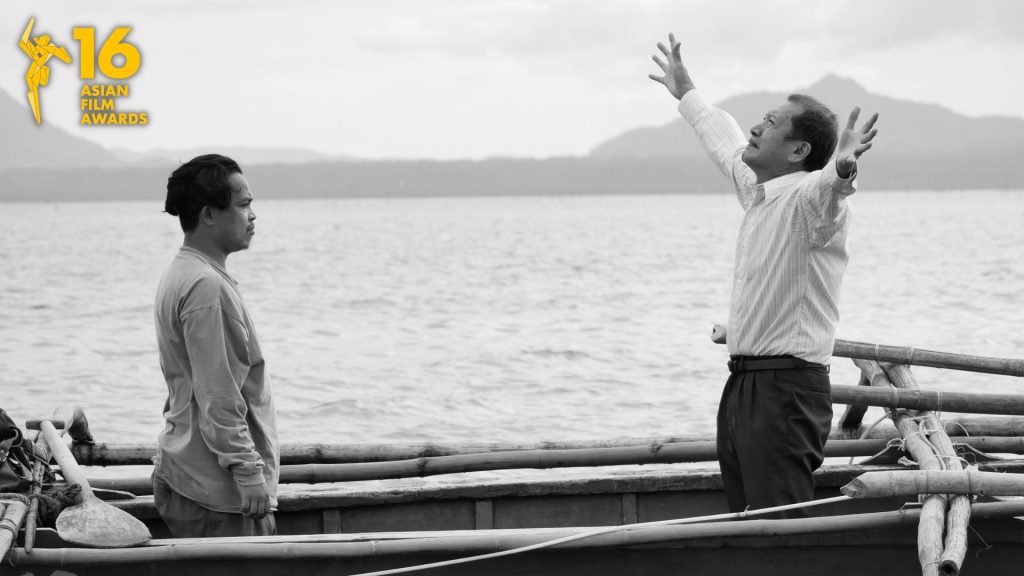 When the Waves Are Gone
10 March 2023 (Fri) 20:10 MOViE MOViE Pacific Place
Synopsis
One of the best investigators in the Philippines, Lieutenant Hermes faces a moral dilemma concerning the murderous anti-drug campaign. The barbarity that Hermes witnesses first-hand is destroying him physically and mentally. Feeling anxious and guilty, he is diagnosed with a severe skin disease. As he tries to heal, a dark past haunts him and eventually comes back for a reckoning.
Directed by Venice Golden Lion winner Lav Diaz, the political film discourses the fragility of humanity by presenting both believers and victims of this faulty police culture, albeit with varying degrees of acceptance, discussing human rights violations under the aegis of citizenry protection and duly constituted laws of the land.
Guest: Lav DIAZ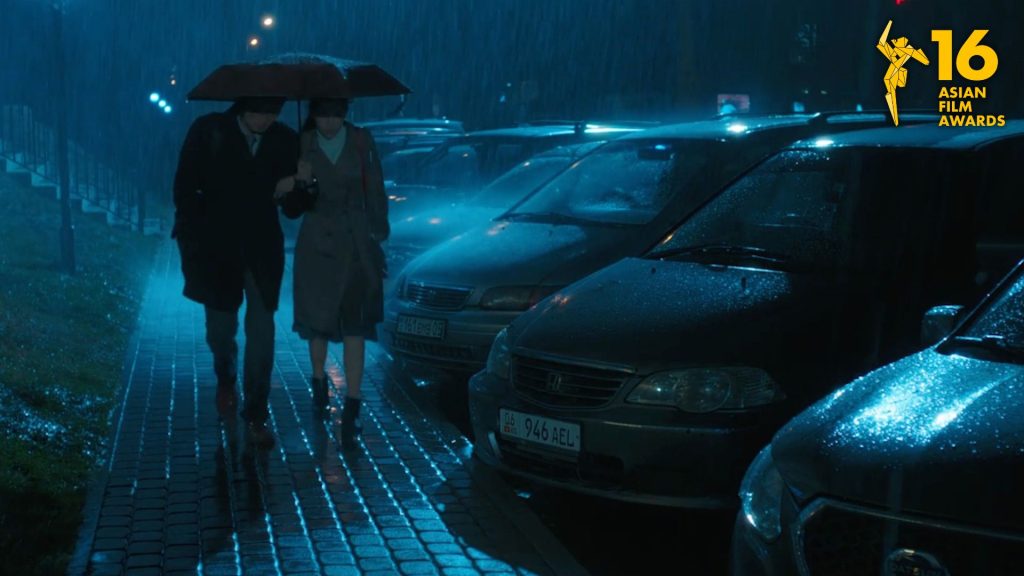 Poet 
11 March 2023 (Sat) 14:00 PREMIERE ELEMENTS
Synopsis
Didar is a poet in his forties longing for recognition for his publications, despite being chained to his day job in a small provincial newspaper. One day, he is invited to give a reading in an author's evening, hoping to make a favourable impression on his readers. Yet he learns that the reality is far from his expectations and finds himself torn between sorrow and ecstasy. Considered a leading figure in Central Asian cinematography, Darezhan Omirbayev displays his mastery in this beautiful and melancholic feature, which is inspired by the life and art of the 19th-century poet Makhambet Utemisov, a crucial figure in contemporary Kazakh literature. Omirbayev brings together his personal experience and the poet's life to find voices for poetry and literature in face of modern technologies.
Guest: Darezhan OMIRBAYEV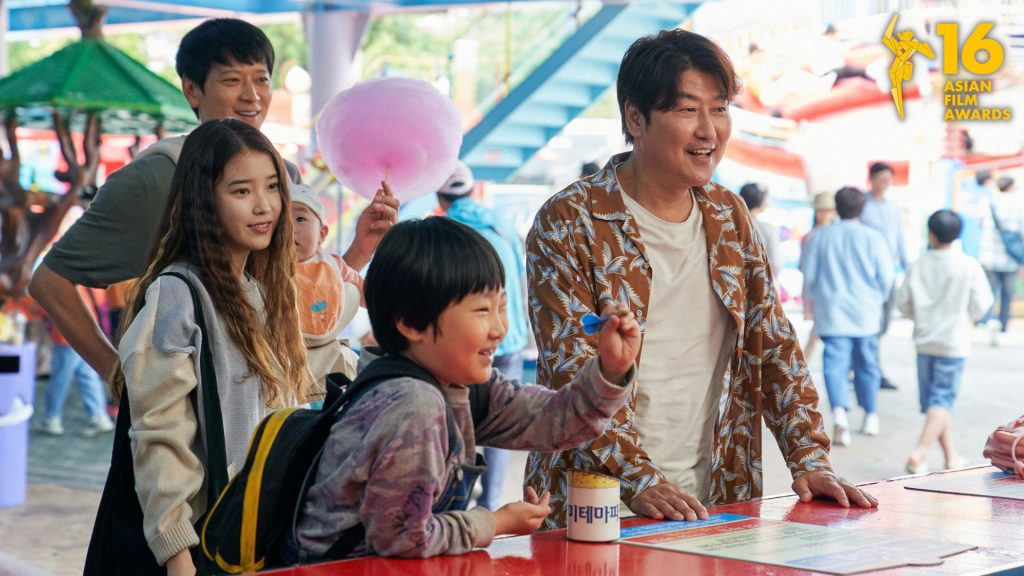 Broker
11 March 2023 (Sat) 16:35 MOViE MOViE Cityplaza
Synopsis
Self-proclaimed benevolent broker Sang-hyun runs a laundry shop; his partner, Dong-soo, who grew up in an orphanage, works in a baby box facility. One night in pouring rain, the pair secretly carry off an infant who was left in the baby box. As they aim to secure a special deal by finding new parents for the baby, the baby's mother So-young returns for her son and realises that her baby has been taken. Meanwhile, police detective Su-jin and her younger colleague are witnessing all this as they silently tail the group, hoping to catch them in the act at all costs. Brought together by chance through a baby box, the five individuals embark on an unusual and unexpected journey.
In his first Korean film, Palme d'Or winner Koreeda Hirokazu depicts the lives of those who are marginalised and unprotected from society with a keen yet warm eye.
Guest: KORE-EDA Hirokazu
Drive My Car
11 March 2023 (Sat) 18:05 MOViE MOViE Cityplaza
Synopsis
Oto, happily married to stage actor and director Yusuke Kafuku, suddenly dies and leave behind a secret. Two years later, Kafuku, still unable to fully cope with the loss of his wife, receives an offer to direct a play at a theatre festival and drives to Hiroshima with his car. There, he meets Misaki, a reticent woman assigned to become his chauffeur. As they spend time together, Kafuku confronts the mystery of his wife that quietly haunts him.
Based on a short story from Haruki Murakami's novel "Men Without Women: Stories", Ryusuke Hamaguchi's Academy Awards-winning title depicts the interactions between the two intriguing characters inside a car, where the closed-off moving space takes viewers to discover aspects or thoughts that could not be put into words before.
Guest: HAMAGUCHI Ryusuke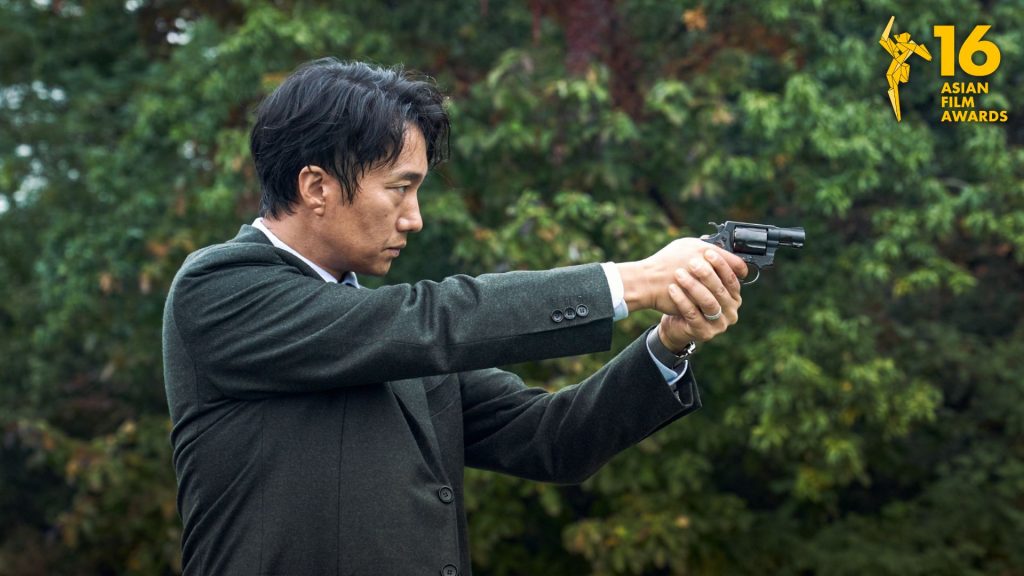 Decision to Leave
11 March 2023 (Sat) 19:00 PREMIERE ELEMENTS
Synopsis
A man plummets to his death from the peak of a mountain in South Korea; no one knows if he jumped or if somebody pushed him. The detective-in-charge, Hae-joon, arrives on the scene and suspects that the dead man's wife Seo-rae may be the murderer, as she does not show any signs of agitation at the death. As the detective interrogates Seo-rae and observes her on a stake-out, he slowly develops an interest in her, and finds himself trapped in a web of deception and desire.
Considered one of the most prominent filmmakers of South Korean cinema, Park Chan-wook again demonstrates his mastery in form, style and temperament in the setup of a classic film noir, and with this title he won the Best Director at last year's Cannes Film Festival.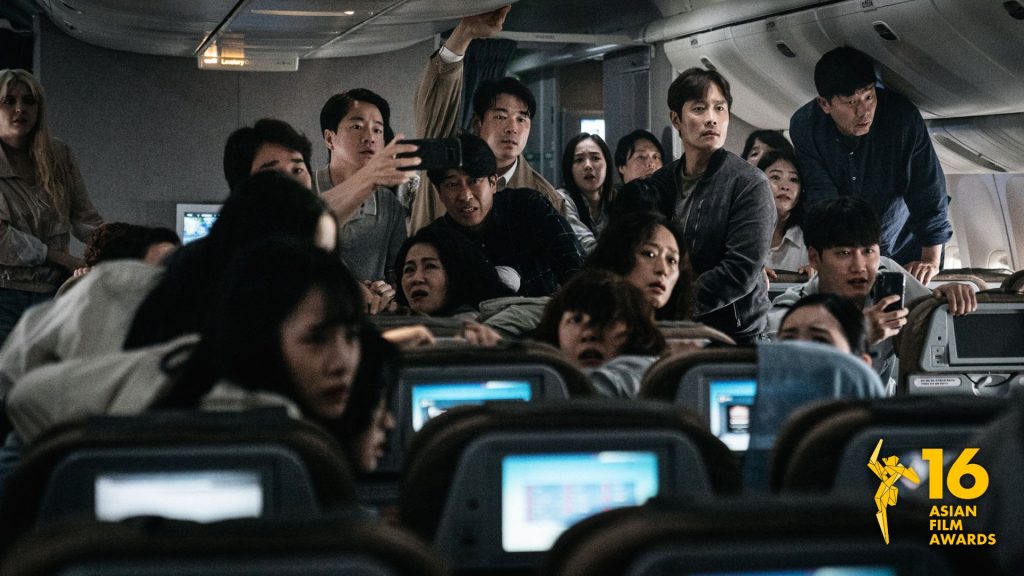 Emergency Declaration
11 March 2023 (Sat) 19:30 MOViE MOViE Cityplaza
Synopsis
Veteran chief police detective In-ho receives a terrorist threat against a plane. While investigating, he discovers that the suspect has boarded the flight. As the flight departs Incheon Airport for Hawaii, a man dies mysteriously. Fear and chaos spread quickly, both inside the plane and on ground. Hearing this news, Transport Minister Sook-hee sets up a counter-terrorism task force and calls an emergency meeting to find a way to land the aeroplane.
The title drew attention by presenting different spaces and characters in the sky and on the ground in realistic ways, as reflected in the lighting, art design and cinematography, bringing the most authentic look possible for a convincing, lifelike experience.
Guest: YIM Si-wan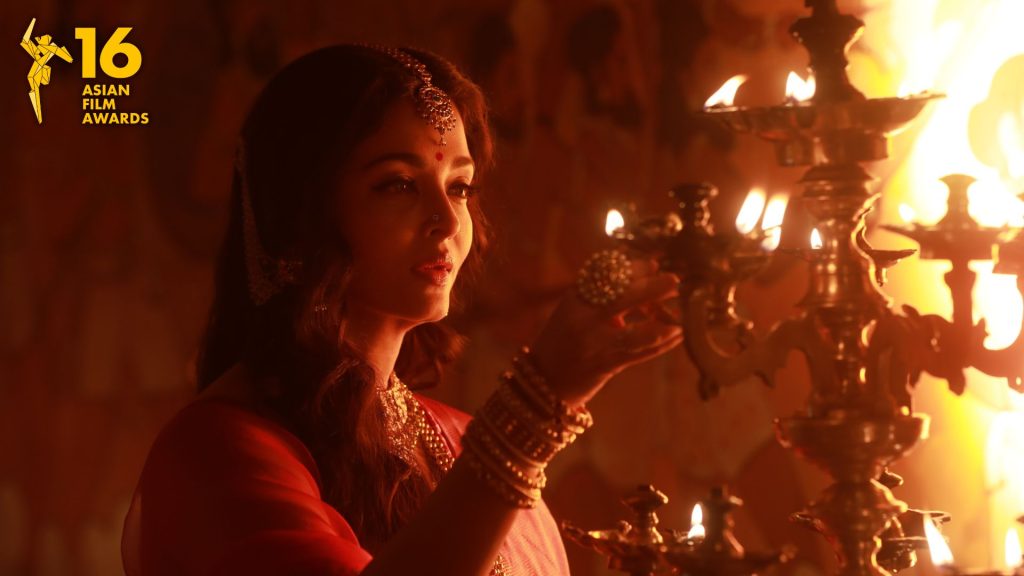 Ponniyin Selvan: Part I
12 March 2023 (Sun) 12:00 PREMIERE ELEMENTS
Synopsis
Set out to cross the Chola land, charming, brave young Vanthiyathevan is determined to deliver a message from the Crown Prince Aditha Karikalan, who is separated by situations with his younger brother Arunmozhi Varman and the emperor, to bring political peace to the Chola kingdom that is under threat from both internal and external forces. The monarch and heirs of the Chola dynasty are in danger, but Vanthiyathevan is willing to do everything it takes to protect the prince. With hurdles and twists, is Vanthiyathevan able to complete his mission and save the Royal family?
Tamil legendary director Mani Ratnam adapted from the Indian bestseller historical-fiction novel "Ponniyin Selvan" into a two-part epic that boasts spectacular battles on land and sea with music from two-time Oscar winner A. R. Rahman.
*The final arrangement is subject to the announcements by the Asian Film Awards Academy. Please refer to the Asian Film Awards Academy's social media platforms.
FILM CRAFT WORKSHOPS
In addition, Asian Film Awards Academy and Broadway Cinematheque will co-oragnise a Film Craft Workshop featuring Poet director Darezhan OMIRBAYEV, an important member of the Kazakhstani New Wave. With students from Drama and Film & TV Departments of the Hong Kong Academy For Performing Arts as well as the general public, OMIRBAYEV will explore what film language is and the relationship between language and film. This workshop will no doubt expand the horizons of cinephiles.
Asian Film Awards Academy
The Asian Films Awards Academy, a non-profit organisation, was founded by Busan, Hong Kong and Tokyo International Film Festivals with the shared goal of celebrating excellence in Asian cinema. Aiming to promote and recognize Asian films and its talents, AFAA highlights, strengthens and develops Asian film industry through the annual Asian Film Awards and several year-round initiatives.
The Asian Film Awards was inaugurated in 2007, where members of AFAA are drawn from its past nominees and winners. The category of awards includes Best Film, Best Director, Best Actor and Best Actress. Members vote for the Asian Film Awards and participate in various AFAA activities involving film professionals and audiences in Asia and around the world.
MOViE MOViE
Launched as an international movie channel (Now TV ch 116) to bring the finest global hits and festival gems into the home since 2012, the innovative lifestyle-driven MOViE MOViE concept has expanded to cinemas located at Cityplaza and Pacific Place in 2017 and 2020 respectively, providing an all-around movie-viewing experience. MOViE MOViE PLAY on Now E, our online viewing platform launched in 2018, helps you experience the joy of cinema anywhere.
Create Hong Kong
Create Hong Kong is a dedicated office set up under the Culture, Sports and Tourism Bureau of the Government of the Hong Kong Special Administrative Region to lead, its strategic foci are nurturing talent and facilitating start-ups, exploring markets, and promoting Hong Kong as Asia's creative capital and fostering a creative atmosphere in the community. Its co-ordinates governmental policy and effort regarding creative industries, focuses governmental resources for the promotion and speeding up of the development of creative industries in Hong Kong, and works closely with the trade to boost the development of creative industries.
Film Development Fund
The Film Development Fund was first set up by the Government of the Hong Kong Special Administrative Region in 1999 to fund projects and activities which contribute towards the development of the Hong Kong film industry, including part-financing small-to-medium budget film productions; enhancing efforts to promote Hong Kong films in the Mainland and overseas; enhancing initiatives to train talents in various aspects of film production and distribution; and enhancing the interest and appreciation of Hong Kong films by the local audience.
The 16th Asian Film Awards Ceremony
Date: 12 March 2023 (Sunday)
Location: Hong Kong Jockey Club Auditorium, Hong Kong Palace Museum, West Kowloon
Address: 8 Museum Drive, West Kowloon, Tsim Sha Tsui