Kuala Lumpur
Golden Screen Cinemas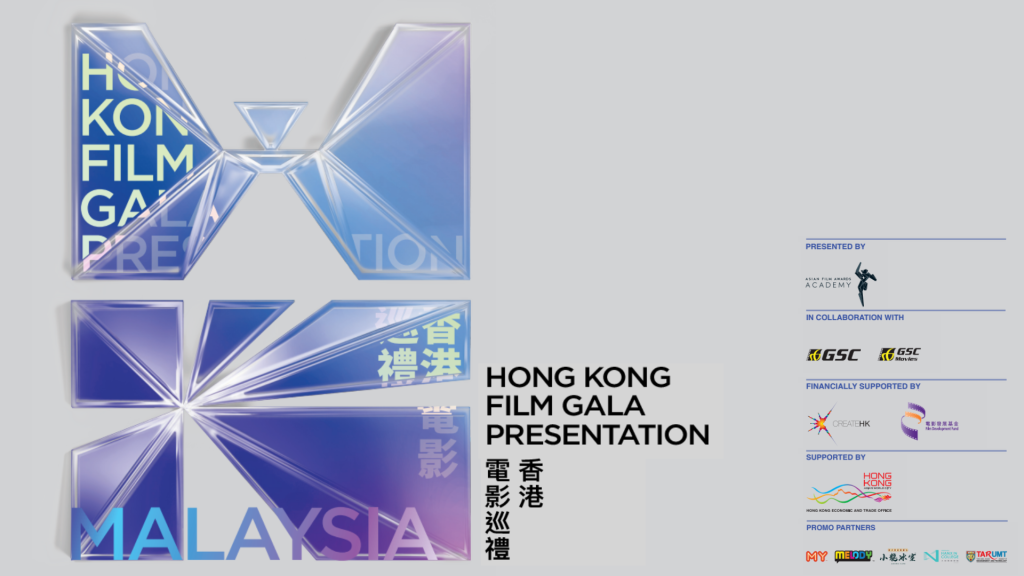 Date: 22 – 24 September 2023
Location: Malaysia (GSC Mid Valley Megamall)
Guest: David Chiang, Lawrence Kan, Amos WHY
Screening: In Broad Daylight, Everyphone Everywhere, Vital Signs, Back Home, Deliverance, Wish Comes True
Partners: Golden Screen Cinemas (GSC), GSC Movies (GSCM), Hong Kong Economic and Trade Office in Jakarta (HKETO Jakarta)
Presented by Asian Film Awards Academy (AFAA) in collaboration with Golden Screen Cinemas (GSC) and GSC Movies (GSCM), financially supported by Create Hong Kong (CreateHK) and Film Development Fund (FDF), and supported by Hong Kong Economic and Trade Office in Jakarta (HKETO Jakarta), the Hong Kong Film Gala Presentation started in Malaysia at GSC Mid Valley Megamall from Friday to Sunday, 22nd to 24th September 2023. 6 different genres of Hong Kong films were brought to the local Malaysian audience.
Events for Hong Kong Film Gala Presentation includes opening ceremony, post-screening talks, film forums in colleges and media interviews. Besides Director Lawrence Kan of "In Broad Daylight", two other invited guests for the events in Malaysia were veteran actor David Chiang, who plays the role of an elderly in the residential care home in "In Broad Daylight", and Director Amos WHY of "Everyphone Everywhere".
Malaysian film industry key players attended the opening ceremony and met with Hong Kong filmmakers, discussing the film industry development in Malaysia and Hong Kong. Guests included "At the End of Daybreak" director Ho Yuhang, "The Wedding Diary" director Adrian Teh, "Rise of the Legend" director Teng Bee, "The Kid from the Big Apple" director Jess Teong, "You Mean the World to Me" director Saw Teong Hin, "The King of Musang King" producer Aron Koh, "PASKAL: The Movie Keong" producer Chee Ang, Chinese Film Association of Malaysia president Leonard Tee, his secretary and assistant secretary David Koon and Mak Chee Choong, as well as Astro TV director Roland Lee, Head of Distribution & Co-Production of GSC Movies Esther Hau and Director General of HKETO Jakarta Lee Sheung-yuen.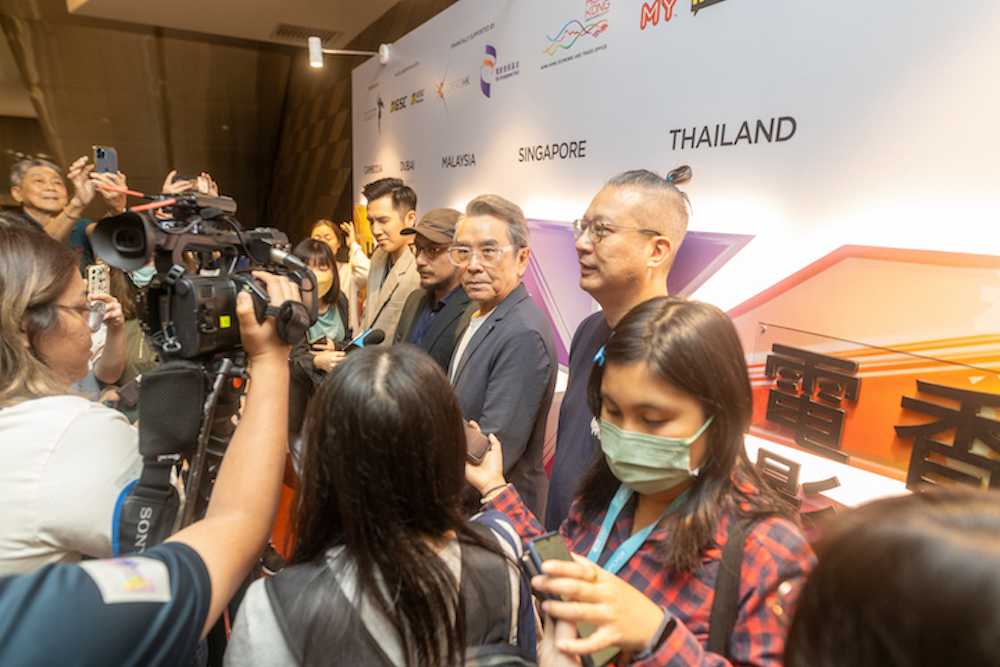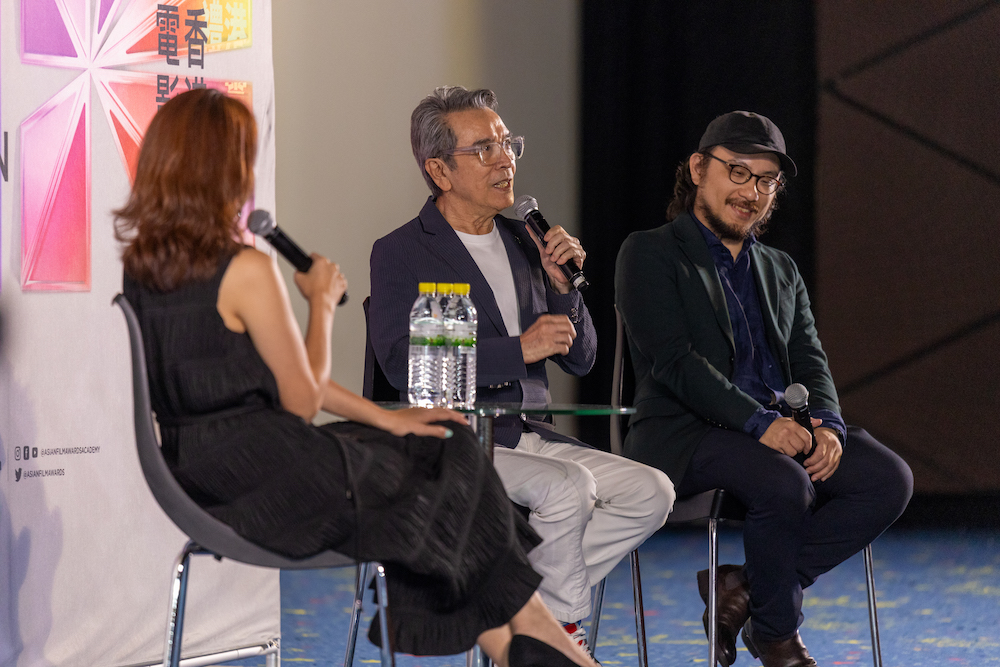 The opening film "In Broad Daylight" is based on a true story, revealing a little-known truth about residential care homes for the disabled that hides beneath the headlines. After screening, audience gave a round of applause. Director Lawrence Kan appreciated the effort from his creation team and he was grateful to have senior actors Bowie Woo and David Chiang. He remembered when filming one of the scenes, the photographers and costume designers were moved to tears by David Chiang's performance. It wasn't wailing, but they were in tears naturally. It was really touching and awesome.
"Everyphone Everywhere" directed by Amos WHY marks its Asian Premiere in this event. It is about three high school friends gather again after 25 years and experience an unusual day on account of their modern-day smartphones, ending up discovering a newfound meaning to their lives. Since there are only very few films about smartphones, it gained rounds of applause from the Malaysian audience. Amos shared with the audience that although smartphone is very interesting to him, it is also very troublesome. "Smartphones become more functional with the technological advancement, many things can be operated by smartphones. It is just like computers. However, human cannot operate as fast as the smartphones. And as I am getting older and regressing, using smartphones keeps me busy and tried."
Other films to be premiered in Malaysia for this event includes "Vital Signs" directed by Cheuk Wan Chi, "Back Home" directed by Nate Ki, and "Deliverance" directed by Kelvin Shum, while "Wish Comes True" directed by Ling Chi Man also marks its Asian Premiere.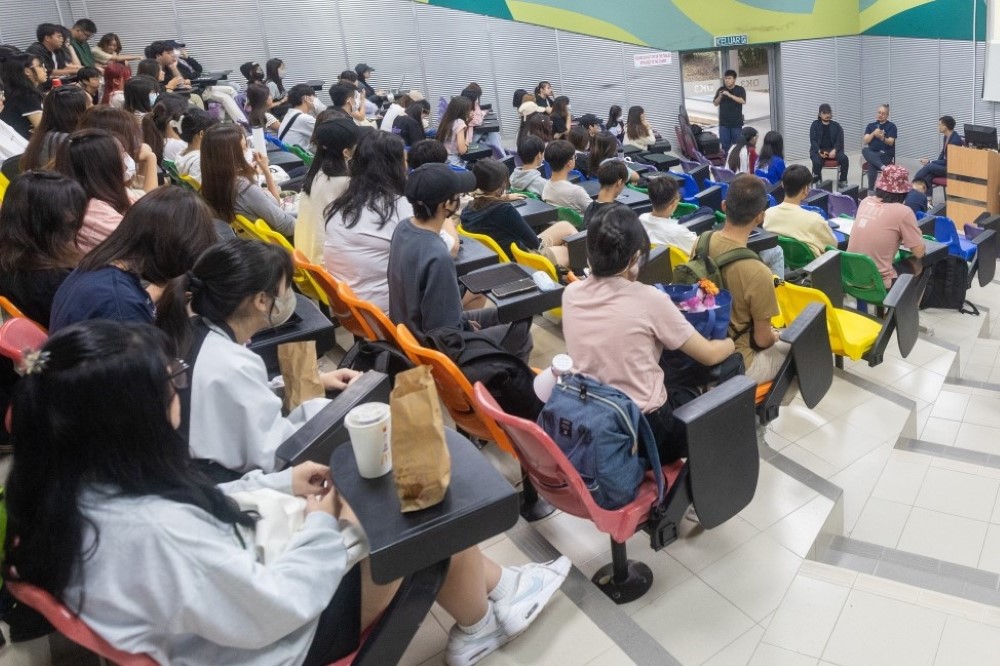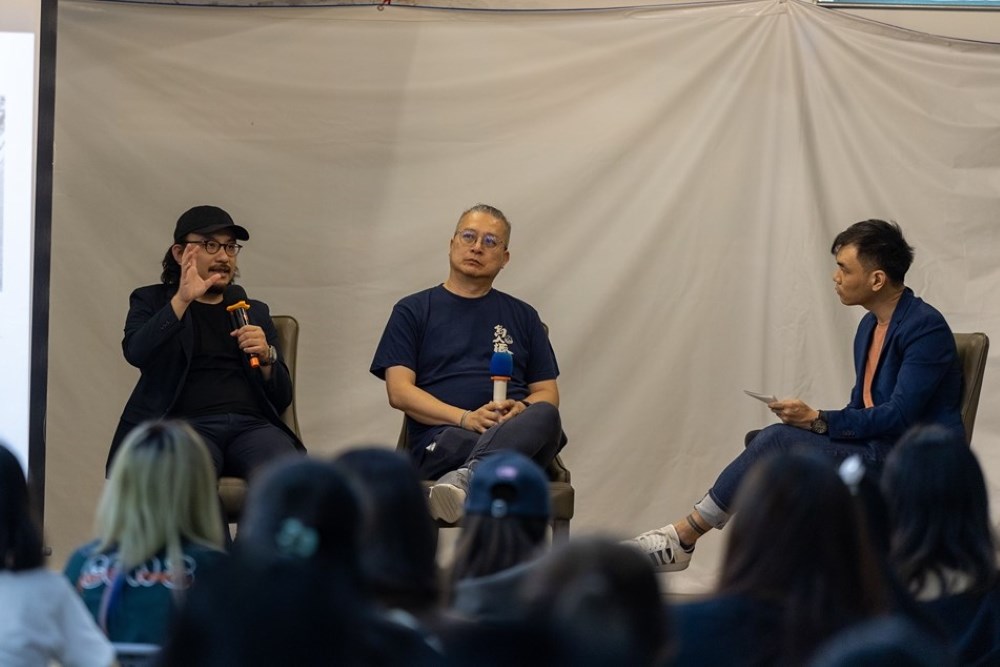 Apart from attending the opening ceremony and post-screening talks, Director Lawrence Kan and Amos WHY visited two colleges, Tunku Abdul Rahman University of Management and Technology (TARUMT) and Oneworld Hanxin College, to share with the local students. In collaboration with two local colleges, "Film Forum: Director From Zero" was held in Malaysia for the very first time. Two directors share their experiences as directors and the production process of the Hong Kong film industry with the students.
Director Amos WHY, a former athlete who once worked in fields of journalism and advertising and holds dual master's degrees, has always been fond of creating and is very interested in news media. He does not only pay attention to current affairs, but also concerns information related to television production. He admitted being a curious person who always questions on different matters. For him, to create means to have something to express, which is also the reason to work in the media field. He also wants to tell different stories through mass media, no matter it is a magazine, web content or a film.
The two directors also gave advice on scriptwriting and character development. Director Kan shared that he gets inspiration from small details in daily life. Whatever happens that touches him, he will try to narrate the event from different perspectives. He said, "For example, the social issues revealed in 'In Broad Daylight' touched me so much that I kept thinking about it even in my dreams. I didn't want to extract from the news content and report this incident, but to find a suitable angle to turn it into a film instead. So I chatted with the journalists who reported the incident back then to understand their struggles and thoughts. At last, I decided to take the journalists' perspective to tell the whole story. That's how I started the script".
During the Q&A session, the students participated actively and asked many interesting questions. When asked to evaluate their own creative styles, both of the directors thought the evaluation should be made by the audience. They did not want to be restricted by rigid forms and thought that styles should not be deliberately created. Kan said, "Sincerity is essential to making films and that we should tell stories honestly through films. You can deceive the audience, but can't fool yourself. So you don't have to build a film style intentionally. You will develop your own style through the number and variety of films you make."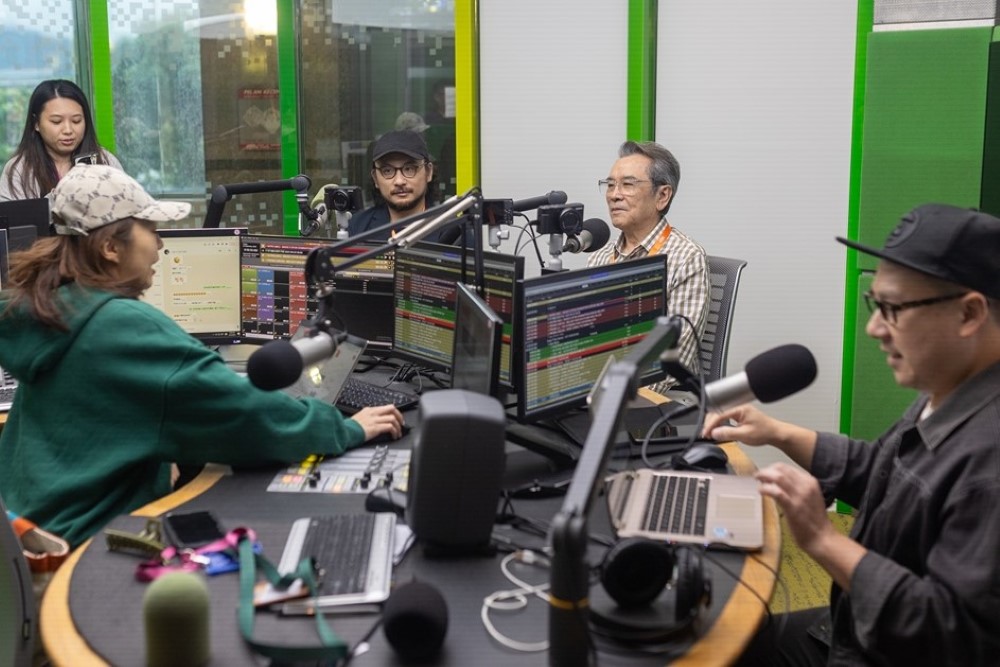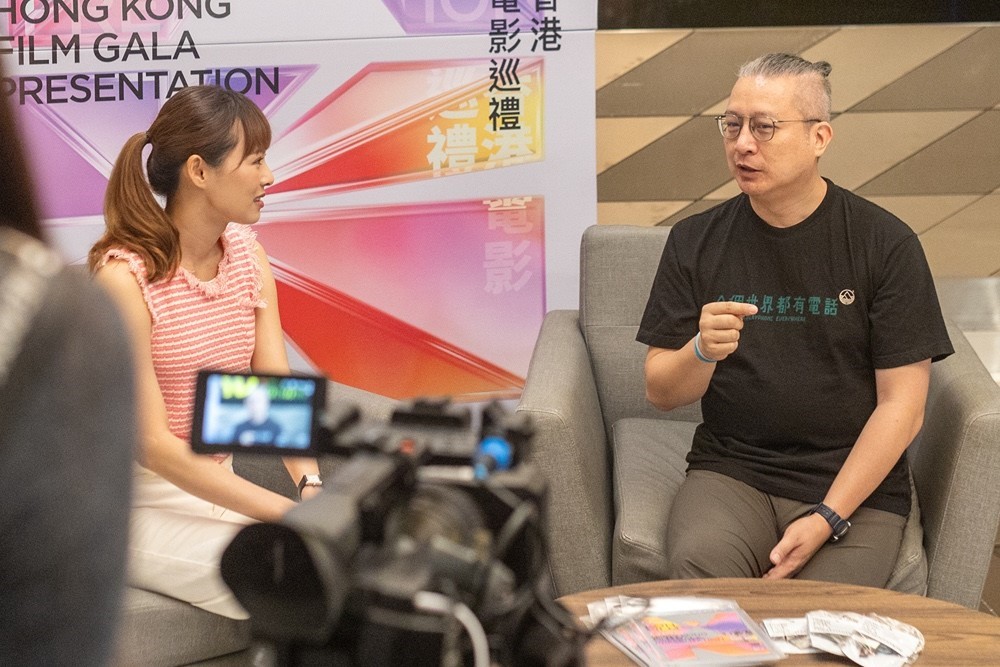 Moreover, three filmmakers David Chiang, Lawrence Kan and Amos WHY also conduct several media interviews in the three-day event. Upon arrival in Malaysia, they went for an interview at Melody, a subsidiary of Astro, Malaysia's largest integrated media and entertainment company. They were also interviewed by various local media outlets, such as Sin Chew Daily, China Press and Pocketimes in the following two days.
David Chiang told the media during interview, "Hong Kong films have been facing challenges in the past few years. I hope to do something for the film industry, which is keep making quality films. I am pleased to work with new directors, sharing my experience and giving advice. Of course, it all depends on the director's take." When asked whether he would be taking the director role again, his answer was probably not but instead will be more than willing to pass on his experience and support new directors.
Screening schedule in Malaysia:
In Broad Daylight:22 September 2023 – 20:00
Everyphone Everywhere:23 September 2023 – 14:30
Vital Signs:23 September 2023 – 17:30
Back Home:24 September 2023 – 14:30
Wish Comes True:24 September 2023 – 17:30
Deliverance:24 September 2023 – 20:30
All films are shown in original Cantonese language with Chinese and English subtitles.
All films are Malaysia premiere.
In 2013, three main Asian film festivals – Busan, Hong Kong and Tokyo – joined together to create the non-profit organization, the Asian Film Awards Academy (AFAA) to promote and develop Asian cinema and its talents. AFAA highlights, strengthens and develops Asian film industry and culture through the annual Asian Film Awards, and with financial support from Create Hong Kong and Film Development Fund of the Hong Kong SAR Government, several year-round initiatives for building regional and international audiences such as the Masterclass Series, Journey to the Fest, Asian Cinerama, Young Film Professionals Overseas Training Program and Film Craft Workshops.
Create Hong Kong is a dedicated office set up under the Commerce and Economic Development Bureau of the Government of the Hong Kong Special Administrative Region on 1 June 2009 to lead, champion and drive the development of the creative economy in Hong Kong. It co-ordinates Government policy and effort regarding creative industries, focuses Government resources for the promotion and speeding up of the development of creative industries in Hong Kong, and works closely with the trade to boost the development of creative industries.
The Film Development Fund was first set up by the Government of the Hong Kong Special Administrative Region in 1999 to fund projects and activities which contribute towards the development of the Hong Kong film industry, including part-financing small-to-medium budget film productions; enhancing efforts to promote Hong Kong films in the Mainland and overseas; enhancing initiatives to train talents in various aspects of film production and distribution; and enhancing the interest and appreciation of Hong Kong films by the local audience.
Other Hong Kong Film Gala Presentation