Mabel Cheung's Masterclass Lecture concluded successfully in Singapore
Mabel Cheung said: "You capture all your experience, feelings, sentiments and the city you love to your film. They come and go and change all the time, but once you captured them on film, they stay with you forever."

Event Date: 19 January 2022
City: Singapore
Founded by three of the major international film festivals in Asia, that of Busan, Hong Kong and Tokyo, the Asian Film Awards Academy (AFAA) has the objective of promoting and developing Asian cinema, its talents and audiences.
With the financial support from Create Hong Kong and the Hong Kong Film Development Fund, the Asian Film Awards Academy (AFAA) , in collaboration with the Singapore Film Society (SFS) to present the globally renowned Masterclass Series featuring acclaimed Hong Kong Director, Producer and Scriptwriter Mabel Cheung.
The masterclass was conducted in real time in front of a live audience, with Mabel participating via Zoom and moderated by veteran local filmmaker Jason Lai, Co-founder of Oak 3 Films. This special programme was accompanied by an one-time-only screening of Cheung's An Autumn's Tale (1987). The film was presented in its new digitally restored version and in Cantonese for the first time on the silver screen in Singapore. Both the screening and the masterclass were scheduled to take place on 19 February 2022 at Shaw Theatres Lido.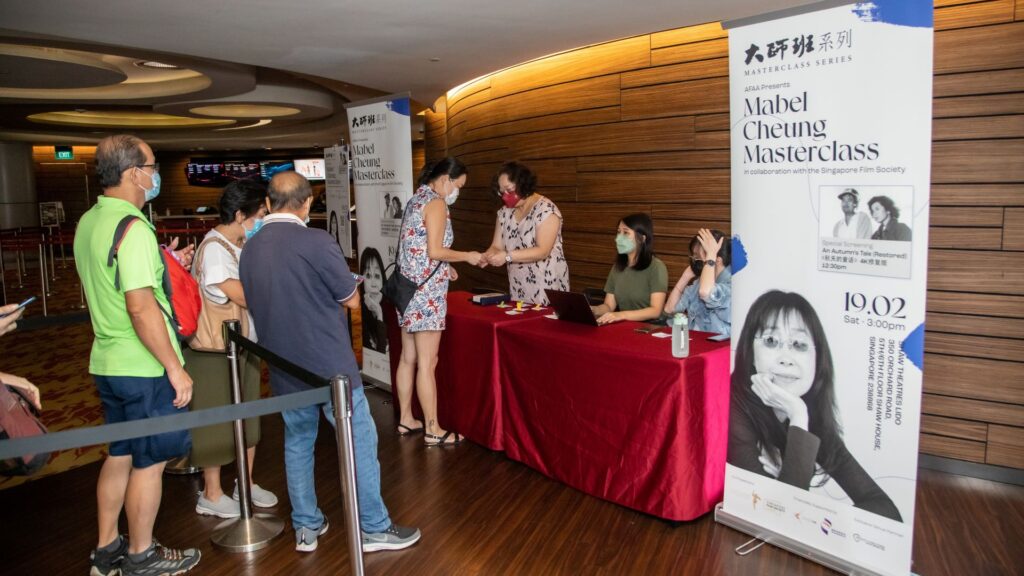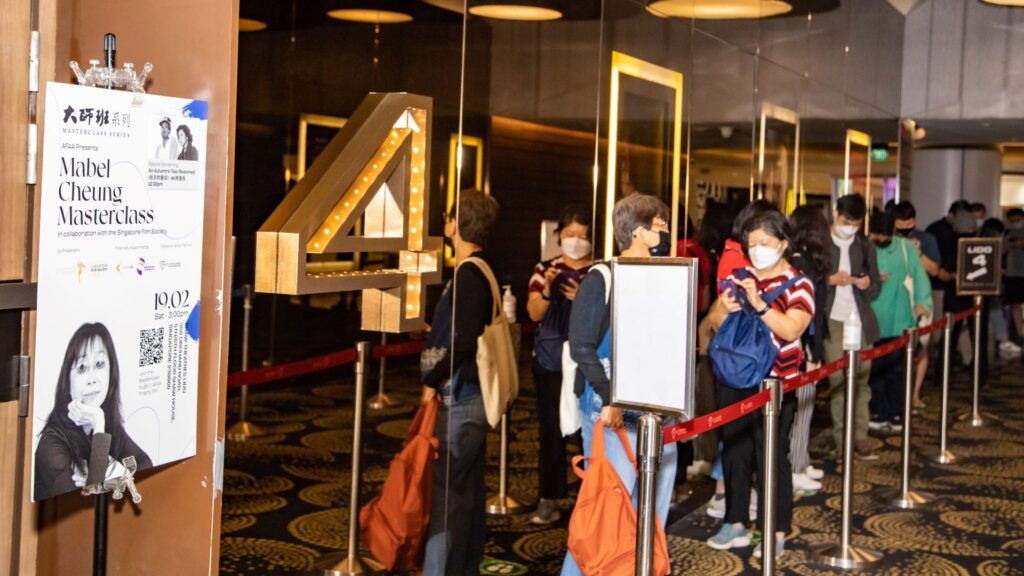 Mabel Cheung is an important female filmmaker and one of the leading directors in Hong Kong cinema. Her critically acclaimed "migration trilogy" explored themes of identity, race, gender and culture in migration, and created stories with historical significance.
Kenneth Tan, Chair of the Singapore Film Society, said: "We are honoured and delighted to collaborate with the Asian Film Awards Academy for the first time, and we aim to build a long-term working relationship and friendship. In over 60 years of SFS's history, we have continuously promoted the appreciation of international cinema and interaction between filmmakers and audiences. Having Mabel Cheung delivering this masterclass is tremendous cause for celebration amongst all our aficionados, and I am sure they will attend and participate enthusiastically."
Josie Lin, Executive Director of the Asian Film Awards Academy, said: "It is our pleasure to present the home-grown Hong Kong director Mabel Cheung to the Singapore audience in our first collaboration with Singapore Film Society. The AFA Academy is always devoted to presenting the best of Asian cinema to global audiences and working with Singapore Film Society is certainly one of the best ways we could opt for."
The Masterclass
Throughout the masterclass, Mabel recalled a handful of behind-the-scenes stories of An Autumn's Tale, shared her career journey as an influential director, producer and screenwriter, and touched upon her aspiration in films.
An Autumn's Tale was Mabel's most beloved classic film, as well as her second directorial effort, it won the Hong Kong Film Award for Best Film, Best Cinematography and Best Screenplay. 35 years went by, the film is still one of the cinephiles' all-time favourites. Mabel spoke frankly about the success of the film was much to everyone's surprise. "When I made the film, I didn't think of making it stand the test of time because it was really difficult just to finish the movie." As Mabel explained, she went over budget and failed to control the schedule while she shot, and even got reported to her boss. "Nobody expected the film to do well, I was thinking I would be lucky to have it finished," she added. "Looking back, I think the most successful of my films are those that are more genuine, truthful or sincere in their feelings and characterizations, maybe these are the things that attract audiences for a long time."
This classic romance starring Chow Yun Fat and Cherie Chung was in fact the first time Mabel had worked with professional actors, she pointed out her inexperience had made Chow running for 15 days for a scene where he chases after the cars to get the last glimpse of Chung. "I was a new director, so I didn't know how to communicate with the professionals. I didn't know I could talk to them and discuss the role with them, or ask for their opinions." Chow then had to run repeatedly over the Brooklyn Bridge each day at sunset in order to film the fascinating shots that make up the iconic scene.
Other than the superb cast and the wondrous acting of the screen idols, the fascinating scenery set in autumn in New York is to account for the triumph of this legend.  Recalling the filming of An Autumn's Tale, Mabel shared an anecdote that landed her in trouble. "During that autumn, the trees (in Central Park) didn't turn red, so the art director and I decided to spray them red using washable paint. We were arrested after that and had to appear in court in front of a judge," she said.
"The judge asked, 'Why did you spray the trees with colour?' I said, 'Because it is beautiful.' The judge said, 'What if I go to Hong Kong and spray your trees red?' I said, 'You are welcome. If you spray them well and make them beautiful, why not?"
She added on with glee, "The judge was really angry. Anyway, we were fined some money but I think it was worth it."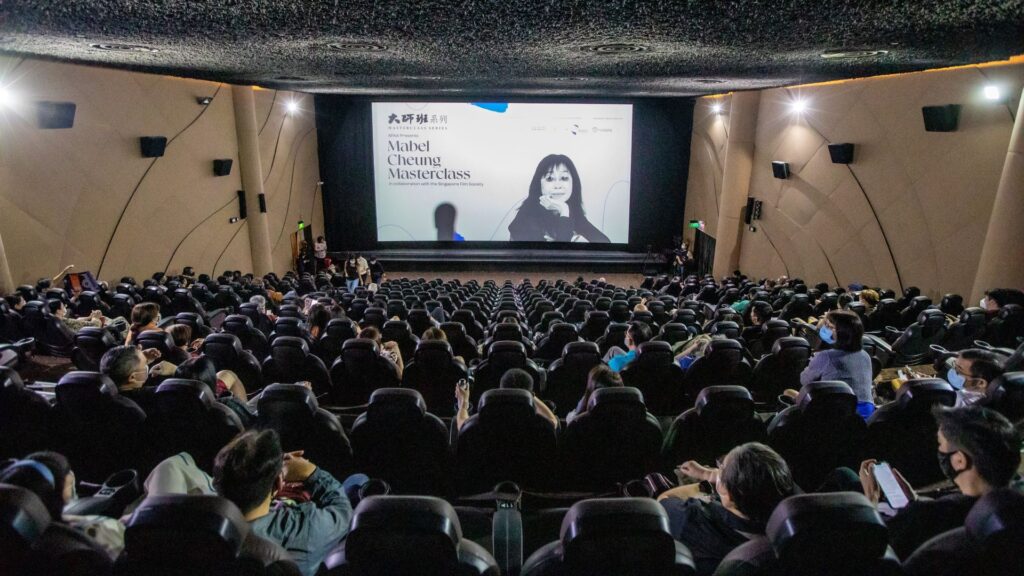 Being the second part of Mabel's 'Migration Trilogy', An Autumn's Tale explores the themes of identity, race and culture in migration, and the character of Chow was based on a friend of Mabel's, an illegal immigrant who worked in Chinatown. She described him as the most interesting person she met when she was studying in the US. "The way he talked and acted is exactly what Chow's character was in the movie. He has his own set of English," she said, with a delighted grin. For example, there was a scene where Chow was arguing with a police officer outside a theatre, yelling 'you talk all yes talk, I talk all no talk', she explained the meaning of it as 'everything you say is right while everything I say is wrong'.
She went on mentioning her Migration Trilogy drew inspiration from her experience and people she met in New York, in which she talked about the importance of creativity for those who aspired to be film directors. "They should go out of the box and try to live crazy and exciting lives so that they can have interesting stories to write about, and they should meet all sorts of characters. Like what I did in New York, I made friends with gangsters and illegal immigrants." She believed that living an interesting life and writing appealing stories are the keys to enter the film industry.
Ever since her debut in 1985, Mabel has always worn the hats of film director, producer and scriptwriter, yet she never gets tired of her job, "Quitting? Why? I think I am in the right industry. I am so happy that I am a film director." Filmmaking indeed means a lot to Mabel, not only does it record her growth but also reflects the changes of the society. When speaking about how she came up with the story of City of Glass (1998), she said the idea sprang up due to the demolition of Lady Ho Tung Hall. "I want to capture everything on film before they disappear. That is actually what I have been doing all the time, during my entire career," she went on in a melancholy tone, elaborating on her interpretation of filmmaking, "you capture all your experience, feelings, sentiments and the city you love. They come and go and change all the time, but once you captured them on film, they stay with you forever."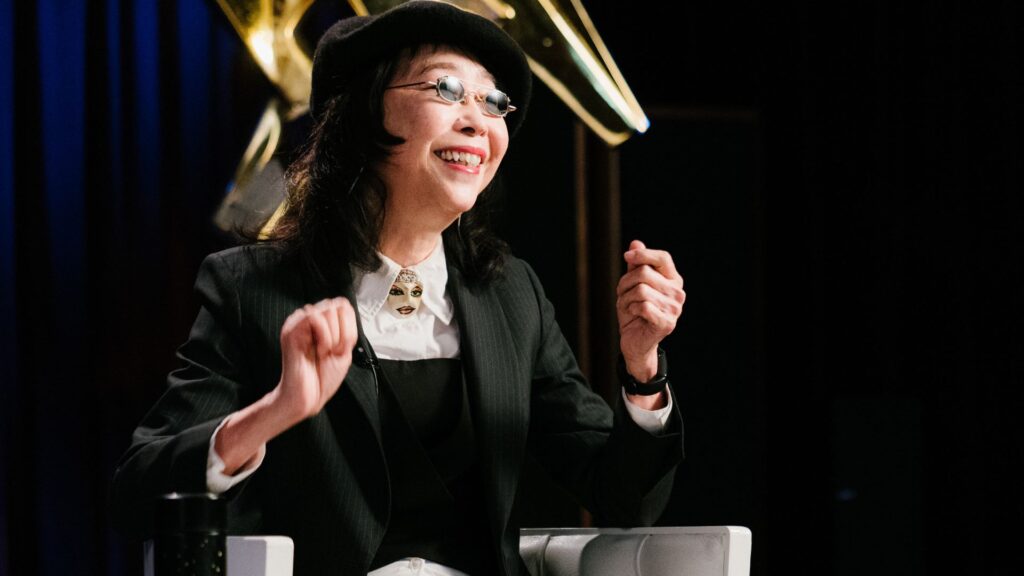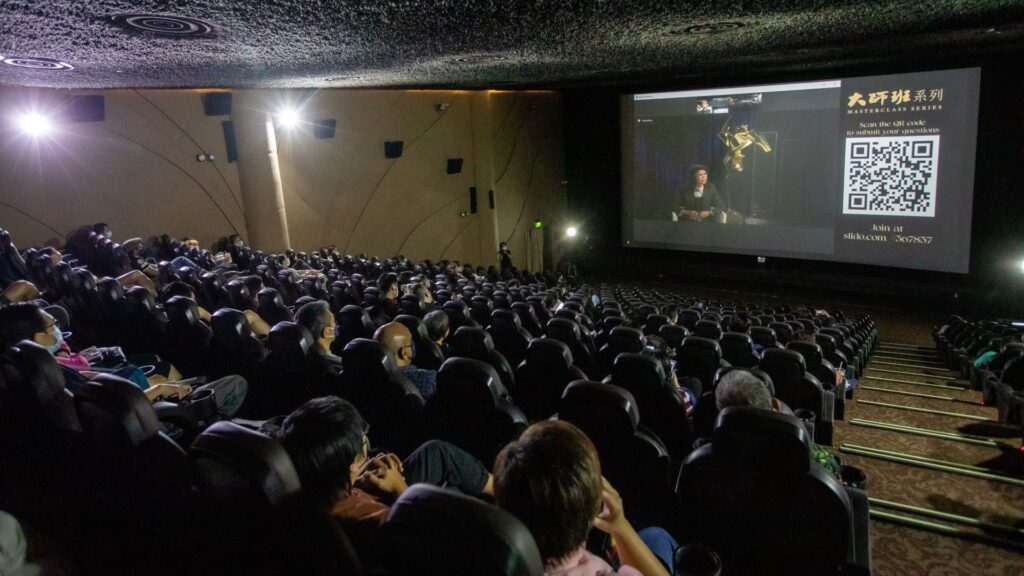 About Mabel Cheung
Mabel Cheung's filmmaking career started in the 1980's with critically acclaimed "migration trilogy": Illegal Immigrant (1985, directorial debut), An Autumn's Tale (1987) and Eight Taels of Gold (1989). Two of her most renowned films, The Soong Sisters (1997) and City of Glass (1998) marked another peak of her career. These films are packed with the realities of life of Hongkongers, interlaced with romance, heartbreak and joy. Cheung's work not only spans decades, but demonstrates mastery across film directing, producing and scriptwriting. Cheung has also been very active at her alma mater Hong Kong University, where she has for many years given generously of her time as a mentor to students and to help foster Hong Kong's next-generation filmmakers.
About Jason Lai (moderator)
Singaporean Director/Producer Jason Lai is a veteran filmmaker and TV producer, and the co-founder and Head of Content of Oak 3 Films. Jason led the inaugural charge of Singapore's international light brigade with the country's first-ever co-production with Europe, including seminal made-by-Singapore feature films such as the Cannes-premiered Here. Jason has directed/produced 5 feature films. His debut feature film, The Road Less Travelled, premiered in 1996 and remains, to this day a landmark film in local film history, a local movie other filmmakers have talked about and drawn inspiration from. 
About An Autumn's Tale
Cheung's first bona fide hit, the romance An Autumn's Tale (1987), like her earlier work, was set once again in New York City and depicted the relationship between a young woman from Hong Kong in search of her boyfriend and an older, working-class immigrant who had lived in Chinatown for years. Making effective use of its stars Chow Yun-Fat and Cherie Chung, the film was a major success at the box office and also won many awards, including Best Film at the Hong Kong Film Awards and Best Male Lead at the Taipei Golden Horse Awards.